Dir: Yann Demange. UK. 2014. 99mins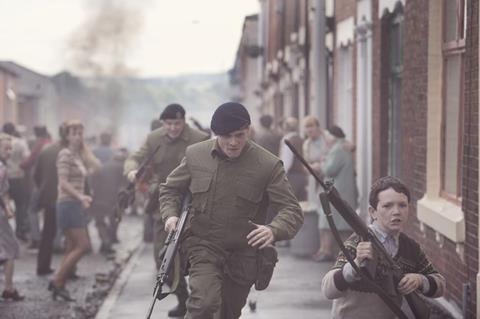 A tense and exciting action-drama about a young British soldier caught out of his depth on the mean streets of Belfast in Northern Ireland in the early years of the Troubles, the impressively mounted '71 is a remarkably assured feature debut for Yann Demange. While politics lie at the heart of the film, its story doesn't aim to tackle the deeply thorny issue of the sectarian divide, instead it aims to focus on the horrors of a teen soldier being caught up in a situation he can barely understand.
The film is at its visceral and wonderfully tense best as a terrified, injured and confused Hook has to try and find his way through the warren of streets.
Screening in competition in Berlin, the film balances intense and often thrilling action with intriguingly developed and complex supporting characters. The young lead soldier may be something of an innocent abroad, but those he comes into contact with are caught up in the dark complexities of the two violent sides of the conflict.
The film is also a great calling card for the talents of French-born but British-based director Yann Demange (who made who Channel 4 series Top Boy), who has crafted a film that deftly juggles dramatic sensibilities with well-staged moments of full-on action.
In England in 1971 new recruit Gary Hook (Jack O'Connell) and his fellow squaddies expect to be posted to Germany, but find themselves sent to Northern Ireland "because of the deteriorating security situation in Belfast" as his platoon is informed. Barracked in a makeshift dorm in an abandoned school the young recruits are thrust straight into action when they have to escort the brutal RUC (Royal Ulster Constabulary) in a house search in the Catholic community.
The city is divided between Protestant Loyalist area (defined as "friendly" by the officers) and the Catholic Nationalist areas ("hostile"), with the Catholic area also torn apart by a feud between the official IRA and the younger, more radical and violent, Provisional IRA. When the soldiers find themselves under attack by an angry crowd Hook and his comrade Thommo (Jack Lowden) find themselves separated from the squad, and to his horror Hook sees his friend shot point-blank by two men.
Before he is also shot, Hook manages to run off in the confusion, and is chased through a maze of narrow back-alleys and rat-runs (in a gripping and thrilling sequence similar to the chase scene in Point Break), finally managing to take cover in an outhouse.
Under cover of darkness Hook manages to steal a jumper to cover his uniform and tries to find his way through the city streets, dodging running battles between young Protestant and Catholic youth, and eventually being "rescued" by a young loyalist boy named Billy (Corey McKinley) – whose accent is so thick it actually may need to be subtitled – who takes him to a loyalist pub.
But things go from bad to worse as the pub is devastated by a bomb blast and seriously wounded he finds himself helped by a father and daughter – Eamon (Richard Dormer) and Brigid (Charlie Murphy). He's carried back to their flat in a Catholic estate, the same estate the soldiers were warned not to enter in their first briefing. With both his commanding officer and Provisional IRA gunmen hunting for him, the scene is set for a final showdown at the estate where the young soldier witnesses the brutal deviousness of the conflict as bodies fall and duplicitous pacts are made.
The dangerous complexities of the Troubles in Northern Ireland during that period are viewed with uncomprehending eyes by the young soldier, with Jack O'Connell impressive in a role that calls for him to be naïve and disbelieving to the horrors around him. Paul Anderson and Sean Harris are striking as the MRF (army undercover men) who are involved in the pub bombing and attempt to connive with both sides of the conflict, while young Corey McKinley is terrific as the young loyalist boy.
The film is at its visceral and wonderfully tense best as a terrified, injured and confused Hook has to try and find his way through the warren of streets, with Demange shooting the sequences with a great sense of pace and excitement. The film is beautifully shot by Tat Radcliffe and benefits from wonderful production design and costumes. A book-end device of Hook and his young brother is there to re-inforce the emotional value but in truth adds little to the film, with its rather low-key ending actually detracting from the intensity that has gone before.
Production companies: Crab Apple Films, Warp Films, Film4, Screen Yorkshire, BFI, Creative Scotland
International sales: Protagonist Pictures, www.protagonistpictures.com
Producers: Robin Gutch, Angus Lamont
Executive producers: Sam Lavender, Tessa Ross, Dan Macrae, Danny Perkins, Hugo Heppell, Mark Herbert, Lizzie Francke, Leslie Finlay
Screenplay: Gregory Burke
Cinematography: Tat Radciffe
Editor: Chris Wyatt
Production designer: Chris Oddy
Music: David Arnold
Main cast: Jack O'Connell, Paul Anderson, Richard Dormer, Sean Harris, Barry Keoghan, Martin McCann, Charlie Murphy, Sam Reid, Killian Scott, David Wilmot, Jack Lowden, Babou Ceesay