Dir: Ramin Bahrani. US. 2014. 112mins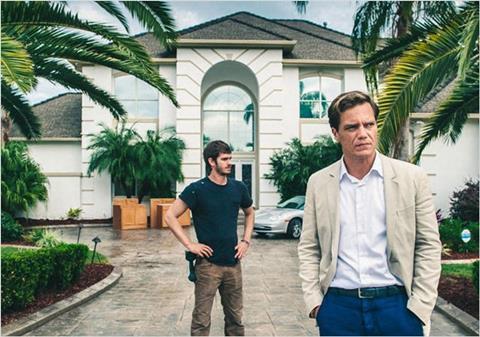 Director Ramin Bahrani's ability to reflect the plight of ordinary working Americans when faced with economic issues beyond their control is at the elegant core of 99 Homes, a smart and at times powerful drama given real punch by savvy performances by Michael Shannon on Andrew Garfield. The intricacies of home repossessions, banking behaviour and legal procedure weigh heavy on the storyline – and may hamper some audiences ability to really engage with the film – but at heart it is an old-fashioned Faustian tale as Andrew Garfield's honest working Joe is lured into the money-obsessed world of real estate manipulator Michael Shannon.
As might be expected, the always-impressive Michael Shannon gets the lion's share of the great lines, but while he is great in the role, is character is thinly drawn with only hints of a back-story that are never really developed.
Bahrani's film reflects the global 99% issue – the Occupy movement used the slogan 'We are the 99%' to highlight that the concentration of income and wealth in the US lies with the top-earning 1% – and that honest working folk face systematic greed and corruption aimed at exploiting him. Like his 2012 film At Any Price – which premiered at Venice but has been little seen since – he stands fair-and-square alongside the working man. This is not a film about analysing what happened to the economy, but simply one that reflects how terrible things are.
The film's impressively shot opening scene hints at a much more brutal and bloody drama than we eventually get. There is a glimpse of a body in a bathroom where a man has taken his life, before the camera pans to Michael Shannon's white linen-jacketed Rick Carver, with cops milling around him. Initially it seems he may be a detective on the case, but soon it appears he is a charismatic and manipulative real-estate broker who works alongside the sheriff's department to evict people from their Florida homes.
His version of the American dream comes in exploiting the loopholes and aiming to build his own property portfolio. He is unemotional and unconnected to the people whose homes are foreclosed, giving them just two minutes to pack their valuables and get out to the side of the street.
Carver evicts hard-working and honest construction worker Dennis Nash (Andrew Garfield) from his family home, leaving Nash angry and humiliated and with no choice but to move his mother (Laura Dern) and nine-year old son (Noah Lomax) into a shabby motel, populated by others in the same situation as them. Nash wants to work but no-one is hiring, so he ends up in a pact with the devil and goes to work for Carver, whose promise of cash in hand and the possibility of getting his home back sees Nash drawn into the world of scamming from banks and posting eviction notices on people just like him.
Soon Carver starts to see Nash as a full-on protégé, with the working man taking to wearing suits in big business meetings at ease (this section is not overly convincing, but needs to be there to reinforce the Faust storyline) as well as grudgingly finding himself evicting people using the same blithe language that Carver used on him. But Nash also tries to hide what he is doing from his family, and as the money comes in his lies need to be bigger.
The film heads to an entirely predictable and rather rushed dramatic ending in which there are no winners, simply losers all round. But then Bahrani's emotionally powerful story is there to reinforce the terrible situation facing the honest working man. Carver's pragmatic mantra is simply 'Don't get emotional about real estate', but then he is a man with houses but not a real home.
As might be expected, the always-impressive Michael Shannon gets the lion's share of the great lines, but while he is great in the role, his character is thinly drawn with only hints of a back-story that are never really developed. Like Al Pacino in Two For The Money (where Pacino's Faust – like so many before him – lures Matthew McConaughy with the promise of money and success) he is a dark and clichéd figure, but still a strikingly powerful one.
Likewise Andrew Garfield embraces life outside his Spider-Man suit, and is excellent as a good-hearted blue-collar working, barely keeping his anger and open emotions at bay, and especially effective when it comes to scenes of him attempting to deal with the man he has become. Perhaps more powerful, though, are the smaller roles of those people he has to evict, where disbelieving and resigned eyes stare back at Nash as he tries to explain they must vacate the house they have long called home.
Production companies: Hyde Park Entertainment, Image Nation, Noruz Films, Treehouse Pictures
International sales: Hyde Park International
Producers: Ashok Amritraj, Ramin Bahrani, Kevin Turen, Justin Nappi Executive producers, Andrew Garfield, Manu Gargi, Mohammed Al Turki, Ron Curtis, Arcadiy Golubovich
Screenplay: Ramin Bahrani, Amir Naderi, Bahareh Azimi
Cinematography: Bobby Bukowski
Editor: Ramin Bahrani
Production designer, Alex DiGerlando
Music: Anthony Partos, Matteo Zingales
Main cast: Andrew Garfield, Michael Shannon, Laura Dern, Tim Guinee, Noah Lomax, Clancy Brown, J.D. Evermore