Dir: Andrew Lau. China. 2011. 122mins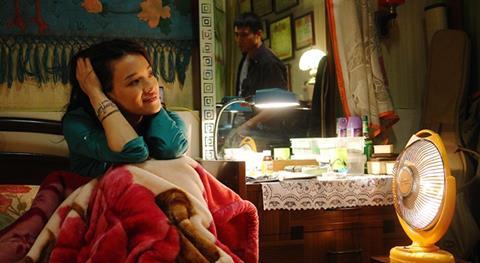 Director Andrew Lau takes a break from the crime thrillers and martial arts period pieces for which he is better known Stateside to tackle more tender affairs of the heart with A Beautiful Life, an uncommonly well sketched romantic drama about the tractor-beam allure that a certain type of wild, damaged women possess for a particular corresponding type of lonely men. Unfolding in present-day Beijing, the movie uses an appealing visual palette and solid performances to communicate and luxuriate in universal feelings about longing, love and connection.
Andrew Lau crafts a vivid, modern cityscape that feels neither feverish and frenzied nor overly romantic
Opening in major metropolitan markets in the United States and Canada as part of distributor China Lion's exclusive deal with AMC Theatres (only Vancouver and Hawaii have separate distribution arrangements), the film, in Mandarin with English subtitles, should play solidly to Chinese-American audiences, and could even woo a small but likely contented cross-section of English-speaking arthouse patrons.
Headstrong Hong Kong transplant Li Peiru (Shi Qi) is young and ambitious in business, but also an alcoholic, and hamstrung by a terrible taste in men. Her boyfriend is married, and additionally "cheating" on her with another mistress, but Peiru finds a comfortable protector in Fang Zhendong (Liu Ye), an overly servile local policeman and precinct chief who also cares for his brother Zhencong (Tian Liang). After a drunken Peiru accosts him at a party and he takes her safely home, she and Zhendong keep running into one another, and Peiru keeps taking advantage of him in the sort of way that pretty girls are often able to get away with.
Later, Zhencong falls for a mute girl, Xiaowan (Fairy Feng), and proposes marriage to her, giving his brother an extra person for whom to look out. While Peiru talks some money out of Zhendong to try to start up a business, he starts to exhibit signs of slowly losing his own memory and facilities. Suddenly faced with the possibility of becoming a potential burden to those around him, Zhendong makes some tough decisions about his future, which in turn causes Peiru to change how she views her relationship with him.
The film's subtitled translations sometimes stumble (the word steel is at one point substituted for still, and other exclamations seem to lack a rooted cultural specificity), but Lau crafts longer takes that let his characters interact in meaningful ways, and truly seem a part of a larger whole. Taking a cinematographer credit alongside Lai Yiu Fai, he also crafts a vivid, modern cityscape that feels neither feverish and frenzied nor overly romantic, but instead poised somewhere between the two.
When a Man Loves a Woman this isn't — Tang Kit Ming's screenplay doesn't really sincerely address what is quite obviously Peiru's alcoholism, apart from Zhendong occasionally leaving Post-It notes reading, "Alcohol is bad," when he has to clean up after her various boozy bouts. It is, however, exceedingly honest about the shifts in attitude its characters experience, and in particular provides some nice grace moments for Zhencong and Xiaowan, whose roles deepen in interesting ways as the film progresses.
Liu and Shu evince a nice rapport, and although Shu's performance at first seems full of only surface beguilement, and not invested in a deeper emotional state other than histrionic acting out, the film's final act provides her the opportunity to better flesh out her character, and she delivers wonderfully.
Production companies: Media Asia Films Group, Beijing Bona Film and Cultural Communication, China Film Media Asia, Basic Pictures
US distribution: China Lion
Executive producers: John Chong, Yu Dong
Producer: Andrew Lau
Associate producers: Lorraine Ho, Ellen Chang
Screenplay: Tang Kit Ming
Cinematography: Andrew Lau, Lai Yiu Fai
Editor: Azrael Chung
Art director: Eric Lam
Music: Chan Kwong Wing
Website: ChinaLionEntertainment.com
Main cast: Liu Ye, Shu Qi, Tian Liang, Fairy Feng, Anthony Wong