The Asia Pacific Screen Awards (Dec 2), now in their fourth year, aim to boost the profile and earning potential of films from the region — on awards night and beyond. Sandy George reports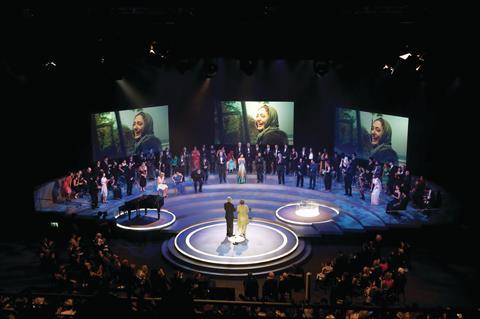 The Asia Pacific Screen Awards (APSAs) exist to spread positive word of mouth about new films from a region APSA argues is under-represented on the world stage. But the awards, which take place December 2 in Australia, are also serious about supporting the films and film-makers of its 70 constituent countries long after the awards-night applause has ended.
"We have a responsibility to assist our film-makers," says Des Power, the Brisbane-based chairman of APSA. "We can take a role in securing better promotion, exhibition and distribution, with a business model that better favours film-makers than currently."
It is early days for the awards — this is only the fourth ceremony — but Power hopes to launch an APSA channel online soon, or some other means of getting the 200 or so annual film submissions to an audience and deliver revenue streams back to film-makers. Power also wants APSA to help stimulate production: fundamental to this ambition is the APSA Academy, a network of all past nominees and judges. This year, $100,000 of script development funding, provided by the Motion Picture Association and available in four $25,000 grants (see box, p13), was offered to academy members.
The 2010 APSAs take place at Queensland's Gold Coast Convention and Exhibition Centre, amid three days of related activities. Some 31 films from 15 countries are nominated from a region stretching from Egypt to the Cook Islands, from Russia down to New Zealand.
Feng Xiaogang's Aftershock, the highest grossing local film ever at China's box office, received a record six nominations, while Lee Chang-dong's Poetry, from Korea, is the second biggest scorer with four nominations. Doze Niu Chen-Zer's Monga from Taiwan and Semih Kaplanoglu's Honey from Turkey, each have three.
Strength in depth
"This is probably our strongest year yet, due to our good relationships and brand building, and I'm really pleased with the country spread, the overall quality — and the sheer depth of the documentary [category]," says awards associate producer Maxine Williamson.
APSA has worked closely with major partner the International Federation of Film Producers Associations (FIAPF) to set up a network of advisors and submitting organisations. This year those organisations, which are often the body which represents producers in each country or a FIAPF-accredited festival, put forward 90 of the 239 submitted films. The rest were invited by individuals on the nine-strong nominations council or by Power himself. An all-Australian advisory committee whittled down numbers before all council members watched the films on DVD or as a group in Queensland in September.
"It's vital to the process that people get together and talk," says Williamson. "In previous years we had to have secret ballots but this year the decisions were often unanimous."
An international jury, headed by the UK's David Puttnam and including Kazakhstan director Sergey Dvortsevoy (Tulpan) and Indian actress and singer Tannishtha Chatterjee, will choose the winners. Awards are given based on APSA's recognition of how strongly the film reflects the society from which it comes, not just cinematic excellence — a deliberate point of difference to other ceremonies. The APSAs are not just about film, but about fostering understanding between people of different backgrounds and beliefs, hence UNESCO's presence as a key partner.
Heejeon Kim, vice-president of international sales and distribution at Korea's CJ Entertainment, says the event helped Korean films in Australia, and increased Australia's visibility in Korea (Korean film A Brand New Life won the best children's film category in 2009). "They [APSA] are very aggressive, in a good way, and can definitely grow," she says. "They are listening to the industry and doing their best to support it. There are so many events trying to establish themselves but this one is not just about making money or creating a business event, but is also cultural."
The event was previously broadcast throughout the region by CNN but will this year be televised by the Australia Network and various Asian broadcasters. APSA's main benefactor, the Queensland government, has forged many cultural links with its northern neighbours (Power declines to reveal the level of Queensland's support and is disappointed he has not secured federal government funding). A film-maker himself, Power established the awards in his capacity as head of Queensland Events Corporation — a role he no longer holds.
"We plan to set up a council of honour next year, made up of people who are well connected in Asia, have political grunt, are culturally savvy, understand what the APSAs are about and can act as an intellectual and artistic resource," he says of the event's ambitions. "You need to have ambassadors and believers who identify with what film can achieve culturally and politically… I would also like to see the awards hosted in other countries in the region and that will happen in due course."
The MPA APSA Academy Film Fund
Four film-makers will each receive $25,000 under an initiative from APSA and the Motion Picture Association to help develop new projects in the Asia Pacific region
This year's introduction of an annual $100,000 script development fund, exclusive to members of the Academy of the Asia Pacific Screen Awards (APSAs), is the most tangible demonstration so far of the value of APSA to film-makers.
The money, provided by the Motion Picture Association (MPA), will be split four ways and the names of the successful applicants revealed at the awards ceremony on December 2 in Australia. At last count, 65 submissions had been received from across the APSA footprint.
The initiative demonstrates the MPA's commitment to local film industries and to protecting all films, not just Hollywood ones, says president and managing director of MPA Asia Pacific, Mike Ellis. The relationships formed are also intended to support the MPA's educational initiatives around copyright theft.
"This is the first time we have done something like this on such a grand scale and will take on board any constructive criticism," he says. "I hope it allows me to continue to engage with the industry, to say, 'We are here and part of the industry,' to help us be on the same page as independent producers."
Synopses and treatments for feature-length narrative, children's, documentary and animated films are eligible for the fund, providing at least one member of the academy is attached as producer, director, screenwriter, actor or cinematographer.
By the end of 2010, the APSA Academy will have about 400 members: about 100 APSA nominees and anyone involved in judging, are automatically inducted each year. So too are the directors of films nominated in the best feature, children's, documentary and animation categories.
"There were discussions about making the fund for non-established first time film-makers but they can approach academy members in order to be eligible, and go on and be mentored by them," Ellis says.
Australian distributor and documentary maker Andrew Pike, Chinese-Australian writer-director Pauline Chan and Korean producer Hanna Lee will judge entries based on the criteria of cinematic excellence and cultural specificity.
"Communicating with other jury members person-to-person, with nominees and awardees… I felt a sense of solidarity and that there were many prospects for collaboration," says Lee, who produced the 2007 best feature winner Secret Sunshine and was on the 2008 APSA Award jury. "$25,000 is quite a significant amount of money and it will help film-makers be inspired and, literally, will give them the money to go into development. It is important."
APSA NOMINATIONS 2010
BEST FEATURE
AFTERSHOCK (Chi)
Directed by Feng Xiaogang, this film about the devastating 1976 Tangshan earthquake is China's highest grossing local film of all time and its submission to the foreign-language Oscar category.
HONEY (Bal) (Tur-Ger)
This final instalment of Semih Kaplanoglu's trilogy, which follows a young boy living in an isolated mountain area, won the Golden Bear in Berlin.
MONGA (Tai)
Director Doze Niu Chen-Zer also appears in this stylish gangster film set in the 1980s. It was a hit in Taiwan, helped by its young local TV stars whose characters were driven more by brotherhood than bloodlust.
Park Chan-ok's second film won the NETPAC Award at Pusan and opened Rotterdam. The drama tracks the complex relationship between a young woman recently returned from India and the brother-in-law she has not seen for three years.
POETRY (S Kor)
Drama about a grandmother with Alzheimer's disease and a problem grandson, Poetry won the best screenplay in Cannes this year. Director Lee Chang-dong's Secret Sunshine won the best film APSA in 2007.
BEST CHILDREN'S FEATURE
Putting aside Peter Jackson's work, this is the highest grossing local film of all time in New Zealand. Taika Waititi's comic coming-of-age story from the 1980s has already won best children's feature at Berlin this year.
Rachel Perkins' musical, a hit in Australia, stars Geoffrey Rush and a collection of the country's best-loved indigenous actors and singers along with newcomers.
Alex Law's bittersweet Berlin Crystal Bear winner, about a Hong Kong family in the 1960s, was a sleeper hit in Hong Kong.
THE OTHER (Iran)
Mehdi Rahmani's debut drama follows the relationship between a boy and the man who is to become his stepfather. It won the World Premiere Prize at the Avanca Film Festival in Portugal.
Vikramaditya Motwane's coming-of-age drama screened in Un Certain Regard in Cannes this year. Its focus is a desperate teenager who dreams about being a writer while suffering at the hands of his authoritarian father.
BEST ANIMATED FEATURE
KING OF THORN (Jap)
In Kazuyoshi Katayama's anime, a disease which turns people into stone has swept the world.
Zack Snyder's animated owl adventure was made in Australia.
MAI MAI MIRACLE (Jap)
Inspired by a grandfather and spurred on by a friend, a young girl experiences life 1,000 years ago. Written and directed by Sunao Katabuchi.
OBLIVION ISLAND: HARUKA AND THE MAGIC MIRROR (Jap)
Shinsuke Sato's family film has been much acclaimed in Japan and won the best animation prize from the Japanese Academy.
PIERCING I (Chi)
Liu Jian made this film, about a man down on his luck, for very little money in his garage. APSA nominations council chair Hong-Joon Kim describes it as innovative, intriguing and a new kind of film to come out of China.
BEST DOCUMENTARY FEATURE
12 ANGRY LEBANESE (Leb)
Director Zeina Daccache and the inmates of Lebanon's notorious Roumieh Prison spent 15 months staging a play. This account of the process won the documentary prize at last year's Dubai International Film Festival.
BUDRUS (Pal Terr-Isr-US)
Julia Bacha's action-packed story of non-violent resistance offers a remarkable window on the occupied territories and was in competition at Tribeca.
The Khmer Rouge killed millions in Cambodia in the 1970s, and directors Rob Lemkin and Thet Sambath put the perpetrators of this genocide centre stage. The film won the world cinema special jury prize for documentary at Sundance.
KARAMAY (Chi)
Xu Xin takes six hours to tell the true story of what happened when more than 300 students and teachers died in a fire in 1994 — and why the Communist Party officials present did not. The film screened at Locarno this year.
LAST TRAIN HOME (Chi)
Lixin Fan's film, made with Sundance Institute support, won the top prize at the International Documentary Film Festival Amsterdam. It focuses on one couple among the millions of factory workers who return to the country every New Year to visit their families.
BEST SCREENPLAY
AFTERSHOCK (Chi)
Koji Wakamatsu's intense drama about the relationship between a mutilated war hero and his dutiful wife earned actress Shinobu Terajima a Silver Bear at Berlin this year.
INTIMATE GRAMMAR (Isr)
Debut director Nir Bergman adapted this drama, about a boy who stops growing, from a novel by David Grossman. It won the Haggiag Award for best feature at the Jerusalem International Film Festival.
Samuel Maoz wrote and directed this anti-war film set in the first Lebanon War in the early 1980s. It won the Golden Lion at Venice last year.
POETRY (S Kor)
ACHIEVEMENT IN CINEMATOGRAPHY
AFTERSHOCK (Chi)
HONEY (Tur-Ger)
MONGA (Tai)
RAAVAN (Ind)
Action/dance/romance epic from Mani Ratnam.
THE WELL (Ind)
Umesh Vinayak Kulkarni's The Well, a tale of two cousins, premiered in Generation 14Plus in Berlin.
ACHIEVEMENT IN DIRECTING
AFTERSHOCK Feng Xiaogang (Chi)
HONEY Semih Kaplanoglu (Tur-Ger)
MONGA Doze Niu Chen-Zer (Tai)
POETRY Lee Chang-dong (S Kor)
WEAVING GIRL Wang Quanan (Chi)
This drama about a poor, terminally ill factory worker won the Jury Grand Prize and the Fipresci Award at the Montreal World Film Festival.
BEST PERFORMANCE BY AN ACTRESS
AFTERSHOCK Yu Fan (Chi)
I AM SINDHUTAI SAPKAL Tejaswini Pandit (Ind)
Three actresses play Sindhutai Sapkal, a woman abandoned after she is falsely accused of infidelity, but APSA's nomination is for Tejaswini Pandit.
PAJU Seo Woo (S Kor)
POETRY Yun Jung-hee (S Kor)
WEAVING GIRL Yu Nan (Chi)
BEST PERFORMANCE BY AN ACTOR
AFTERSHOCK Chen Daoming (Chi)
HOME BY CHRISTMAS Tony Barry (NZ)
Veteran director Gaylene Preston's dramatisation of the impact of the Second World War on her parents stars her own daughter, Chelsie Preston-Crayford, alongside APSA-nominated Tony Barry.
HOW I ENDED THIS SUMMER Sergei Puskepalis (Rus)
Grigoriy Dobrygin and Sergei Puskepalis shared the Berlin Silver Bear for their performances in this drama, set in a remote rundown meteorological station in the Arctic Circle, but only Puskepalis is named in the APSAs.
THE HUMAN RESOURCES MANAGER Mark Ivanir (Isr-Ger-Fr-Rom)
Mark Ivanir, in the title role, carries this sad, comic film. Adapted from a novel by celebrated Israeli novelist AB Yehoshua, the film starts with an unclaimed body from a suicide bombing. It screened in Locarno and Toronto.
NATARANG Atul Kulkarni (Ind)
This drama is from the Marathi film industry and the accolades have principally come from within India. Atul Kulkarni's APSA nomination is for his performance as a labourer who forms a dance troupe, but is dogged by confusion between reality and his on-stage persona.