Dir: Sam Garbarski. Bel-Fr-Lux. 2010. 99mins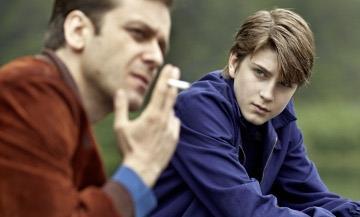 Sam Garbarski's follow-up to Irina Palm takes a wistful back-to-the-future manga by Japanese graphic artist Jiro Taniguchi and transposes it to provincial France. For a time-travel yarn it's surprisingly affecting and grounded, partly thanks to the strength of the writing and a brace of committed, authentic performances. But the most engaging aspect of the film is its honest and entertaining attempt to answer the question of what it would be like to relive a fragment of our youth with the knowledge and experience of maturity.
This is more of a film for the mid-life-crisis brigade.
The retro sixties setting spills over into A Distant Neighbourhood's clean and measured style and pace, which will test younger manga fans and the sort of teen audiences who might otherwise identify with the fifteen-year-old avatar of protagonist Thomas. This is more of a film for the mid-life-crisis brigade, and in Gallic territories part of appeal will be nostalgic: the groceries, cars, haircuts, clothes, records and even the way people held themselves, walked and sat in the summer of 1967 are reproduced with scientific accuracy.
But the historical theme park is also a dreamscape. This aspect of the film – accessible to audiences everywhere – is set up by the narrative frame: Thomas Verniaz, a washed-out and creatively-blocked fifty-something graphic novelist (Greggory) takes the wrong train following a poorly attended book signing somewhere in the French sticks. Getting off at the first stop, he discovers that he's back in the town he grew up in. With time to kill before the next train back to Paris he visits the cemetery – and here a dizzy spell brought on by a CGI butterfly causes him to faint.
When he wakes up, he's fifteen again (and played by an engaging Leo Legrand). At first he greets his schoolfriends, mum, dad and younger sister as if he expects them to evaporate at any moment, but their flesh-and-blood reality – and remarks on his odd behaviour – soon turn him from spectator to actor.
Thomas never, however, loses the awareness that he's a middle-aged man in his younger self's body, and this disjunct fuels moments of uneasy drama-comedy – like his refusal to go all the way with love interest Sylvie (Laura Martin) because she's underage, or the fact that he's completely forgotten how to do algebra. It also lies behind the film's macro drama: Thomas's realisation that his life has been rewound to just a few days before the event that would mark his life for ever – his dad's sudden, and permanent, disappearance. We all know, deep down, that time travellers can never change things – but Garbarski's sensitive adaptation keeps us hoping. Its fatalism is nothing if not humanistic.
The film's suspended, dreamlike feel comes through also in its overexposed visuals – though we're in June 2007, everything is bathed in stark winter light – and a soignée soundtrack by French ambient electronic duo Air. Keeping things real are the nuanced performances: Legrand is good as the young Thomas, but it's Alexandra Maria Lara as the apprehensive, lovelorn mother and Jonathan Zaccai as the taciturn, quietly desperate father (a role reminiscent of Dennis Quaid's in Far From Heaven) who really impress. The film has pacing problems, and the audience's difficulties in knowing quite where to place it will be shared by distributors. But like Irina Palm, it's a congenial film that gets its tone exactly right. And though Garbarek will be considered by many too populist for serious auteur status, one could read both as meditations on the passing of time, lost chances, and the way the past oppresses but also illuminates the present.
Production companies: Entre Chien et Loup, Archipel 35, Samsa Film
International sales: Wild Bunch, www.wildbunch.biz
Producers: Diana Elbaum, Denis Freyd, Jani Thiltges, Thanassis Karathanos, Karl Baumgartner, Sebastien Delloye
Screenplay: Jerome Tonnerre, Sam Gabarski, Philippe Blasband, based on the manga Harukana Michi'e by Jiro Taniguchi
Cinematography: Jeanne Lapoirie
Production design: Veronique Sacrez
Editor: Ludo Troch
Music: Jean-Benoit Dunckel, Nicolas Godin
Main cast: Pascal Greggory, Jonathan Zaccai, Alexandra Maria Lara, Leo Legrand, Laura Martin