Dir/scr: Kelvin Kyung Kun Park. South Korea. 2014. 98mins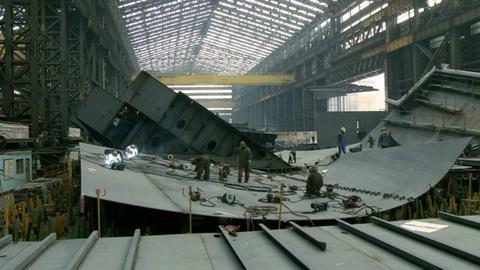 A beautifully shot delve into the past and future of South Korea, juxtaposing early civilisation with booming industrialization, Kelvin Kyung Kun Park's A Dream Of Iron (Cheol-ae-kum) presents a striking mixture of styles and images, resulting in a documentary that lingers on the consciousness.
Past, present and future South Korea form the core of this swirling film – which screened at the Berlin Film Festival – and while the notion of merging an industrial landscape with a reverence for history and spirituality is a tough concept to pull off the film succeeds thanks to its strong visual style.
The tone of the message is clear from an early sequence which details the oldest petroglyphs in Korea, located in the city of Ulsan that was submerged due to industrial development. The images showed early civilization's early gods in the form of whales, and through the film there are links to show how whales link past and present Korea.
The link between Gods and industry permeates through the film, with Park's impressive imagery the driving force. Impressively edited and with an evocative soundtrack (merging Mahler with shamanic songs and whale music with industrial noise) it is an evocative and memorable documentary.
Production companies: Boc Feature LLC, Kyung Pictures, Ulsan MBC
Sales contact: Boc Features, kyungmi007@gmail.com
Producers: Kim Kyungmi
Co-producer: Park Chi Hyun
Cinematography: Kelvin Kyung Kun Park, Kim Stone
Editor: Kelvin Kyung Kun Park
Music: Paulo Vivacqua