Dir: Ben Wheatley. UK. 2013. 91mins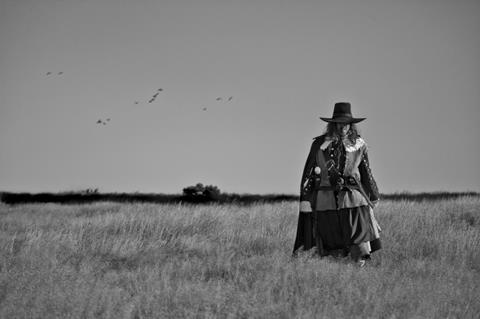 British filmmaker Ben Wheatley goes about solidifying his cult credentials to good effect with ultra low-budget A Field In England, a controlled yet trippy delve into 17th century mysticism. An ambitious psychedelic drama, it is a moody black-and-white affair, punctuated with some of Wheatley's now trademark violence, that will entrance and bemuse in equal measure but certainly be appreciated by fans of his films and distributors who may have handle previous films such a Kill List and Down Terrace.
There is no denying that A Field In England is strange – bordering on weird – but there is a great sense of real control and depth here.
Shot in under two weeks on a budget of just £300,000 (just over $450,000), the film had its first screening in competition at the Karlovy Vary Film Festival prior to a simultaneous theatrical, VOD, DVD and television (via funder Channel 4) in the UK on July 5.
A Field In England is certainly one of the more unusual British films, and while much as has been made in advance of its English Civil War backdrop and occult associations (there have been references to Witchfinder General), in truth this is very much an experimental film that puts a small group of actors in a confined space – in this instance a field – and layers in a warped story of drugs, danger, hallucinations and violence. It is defiantly strange, but mesmerising and intriguing at the same time.
In a remote field, where the sounds of battle resonate, amateur alchemist Whitehead (Reece Shearsmith) blunders through a hedge to escape his master. He comes across three other men - Cutler (Ryan Pope), Jacob (Peter Ferdinando) and Friend (Richard Glover) – and they plan an escape.
But it all turns out to be somewhat more complex, with Cutler feeding the other three hallucinogenic mushrooms and forcing them to help Irishman O'Neill (Michael Smiley, who starred in Kill List) unearth a dark treasure he thinks is buried somewhere in the field.
O'Neill and Whitehead have shared interest in the occult (which links to a dark and strange sequence of off-screen torture) and as the story heads into more strange, disturbing and violent territory – there is a 'shoot out' at the end that is as bloody as any contemporary action film – Wheatley also punctuates the film with strange frozen still-life tableaux, visions, a folk song, alchemy, resurrections and close-ups of plants and insects.
The script by Amy Jump (Wheatley's wife and regular collaborator) is rich, earthy and vibrant, and beautifully complemented by Laurie Rose's lustrous black-and-white cinematography. There is no denying that A Field In England is strange – bordering on weird – but there is a great sense of real control and depth here. It is implied (but never clear) that 'the field' is a place of dark purgatory, with much made of them passing through hedgerows that separate them from the Civil War battle, but this is a film to intrigue, challenge, shock and provoke. And it certainly succeeds on that score.
Production companies: Rook Films, Film4
International sales: Protagonist Pictures, www. Protagonistpictures.com
Producers: Claire Jones, Andy Starke
Executive producer: Anna Higgs
Screenplay: Amy Jump
Cinematography: Laurie Rose
Editors: Amy Jump, Ben Wheatley
Production designer: Andy Kelly
Music: Jim Williams
Main cast: Julian Barratt, Peter Ferdinando, Richard Glover, Ryan Pope, Reece Shearsmith, Michael Smiley