Dir/scr: Zaza Rusadze.  Georgia. 2013. 70mins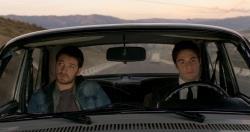 One of those films that you come out of not sure what you've just seen, Georgian director Zaza Rusadze's feature debut is, just possibly, a mix of gay love story, satirical reflection on today's Georgia and its political miasmas, and poignant generational comedy. But it never quite declares itself to be any of these things – and it's this shape-shifting nature that makes A Fold In My Blanket such an intriguing and at times frustrating viewing experience.
Though it's head-scratching more than life-affirming, A Fold In My Blanket is nevertheless original enough to score some action in urban arthouse markets.
Say 'Georgian bittersweet comedy' and Rusadze's compatriot Otar Iosseliani immediately springs to mind, but in fact the tone here is altogether less sentimental and more deadpan. Roy Andersson, Nanni Moretti, Walter Mitty, Chekhov, Ionesco and even Kafka are all lurking there in the background; but so too is a more recent post-realist strand of European arthouse cinema that includes films like Lourdes or Yella, in which parable-like stories are artfully staged and characters are not quite of this world.
Though it's head-scratching more than life-affirming, A Fold In My Blanket which opened the Berlinale's Panorama sidebar, is nevertheless original enough to score some action in urban arthouse markets. Its short 70-minute running time could prove problematic, but this never feels like less than a complete film – and the director was probably right to stop where he did, as quirkiness is a difficult mood to sustain over the full two hours.
Although the film is shot on location in Georgia, there's little to identify the setting for those not familiar with the country. Sad-eyed, rather aimless twenty-something Dimitrij (Tornike Bziava) has returned here from some foreign clime, and is given an administrative job at the courthouse where his father (Zura Kipshidze) works as a magistrate. Life for Dimitrij pans out between the Soviet-era courtroom offices and a series of stuffy, retro domestic interiors belonging to his parents; his Alzheimer-afflicted aunt Irina (Ljudmila Mgebrishvili-Artemieva) and her sister Anna (Marina Janashia); and an elderly doctor, Alexander (Avtandil Makharadze), who appears to be an old flame of Irina's.
Dimitrij's only escape is going climbing in the hills outside of town. When he meets Andrej (Tornike Gogrichiani), a handsome, restless young man of his own age., Dimitrij soon persuades him to accompany him on a climbing expedition. Later, perhaps they return to the hills and explore a cave; or perhaps this is all in Dimitrij's head. Meanwhile, a uniformed flag-man – a dig, perhaps, at Georgian nationalism, though he's a mild-mannered sort of chap – is going around the neighbourhood distributing flags for people to hang from their balconies. Andrej's fury with the flagman, or what he represents, will represent a dramatic crux towards the end – though this said, this is not really a film that deals much in drama; it's more of a deadly serious comedy.
Rusadze keeps firm control over the film's deadpan tone, helped along by some Felliniesque casting, Wouter Zoon's wonderfully arch retro-Soviet production design and a varied soundtrack that mixes opera with Georgian ballads and Krautrock-infected disco. A Fold In My Blanket is an acquired taste, perhaps – but many will agree that it's a taste worth acquiring.
Production companies: Zazarfilm, Studio 99
International sales: Media Luna New Films, www.medialuna.biz
Producer: Zaza Rusadze
Executive producers: Ineke Smits, Els Vandervorst
Cinematography: Goga Devdariani
Editor: Taruma Karumidze
Production designer: Wouter Zoon
Music: Natalie Beridze, Kai Lillich
Website: www.zazarusadze.com
Main cast: Tornike Bziava, Tornike Gogrichiani, Zura Kipshidze, Avtandil Makharadze, Giorgi Nakashidze