Dir/scr: Roman Coppola. US. 2012.  86mins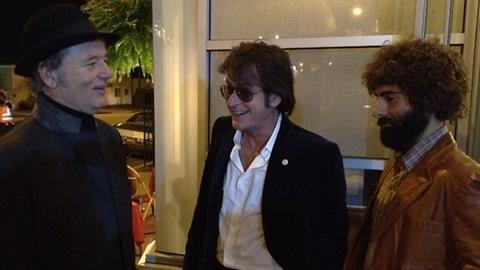 Roman Coppola's second directorial outing, and his first for over ten years, is more of a sketch than a film – or rather a series of sketches, loosely illustrating the life and loves of a 1970s playboy graphic designer, played (in a piece of knowing, wink-wink casting) by Hollywood bad boy Charlie Sheen.
In a film where the production design has as much dramatic heft as the plot, relentless quirkiness swamps the audience's need to care for and identify with any of the characters.
If there's a tang of Wes Anderson here it's hardly surprising, as Coppola fils co-scripted that US maverick's last two live-action films, The Darjeeling Limited and Moonrise Kingdom. Those were whimsical and sometimes poignant children's stories for adults; this doesn't quite know what it wants to be, other than an affectionate homage to an era when White Russian cocktails were considered the height of sophistication.
On home ground, and to a smaller extent elsewhere, Sheen is a hot media property, a viral star whose every move is closely monitored by the gossip sheets and his many Twitter followers. Whether this will automatically translate into healthy business for A Glimpse… is a moot point: shot through with retro cinematic and pop-culture nostalgia, and rather too obviously in love with itself, this is a film designed, perhaps, for an older demographic than Charlie Sheen's default fanbase. It risks not quite pleasing either camp.
Loosely based on 1970s album cover designer Charles White III (and with an erudite nod, perhaps, at Proust's Charles Swann), Charlie Sheen's Charles Swan III is a sharp dresser, small-time playboy and serial womaniser who drives a vintage Cadillac with a fried egg decal down one side and bacon rashers down the other. In his spare time he runs a graphic design company in Los Angeles, housed in a space decked out in the poppy, cartoonish, back-to-the-thirties style of the mid-seventies, complete with hot-dog sofas and a vintage Greyhound bus (with bed in the back) that serves as his own personal office.
The film begins with an ending: Swan's break-up with his latest girlfriend Ivana (Winnick), who is disgusted by the nude pics of other women that he keeps in his photo drawer. Swan's subsequent attempt to dispose of Ivana's large collection of shoes from a balcony road leads to disaster when, somehow, he manages to back his Cadillac down a ravine and into a swimming pool. He's briefly hospitalised, but his physical injuries are as nothing compared to the pain of Ivana's departure.
We know that Swan is suffering only because he says as much to his hippy-chic sister Izzy (Arquette), his depressive financial adviser Saul (Murray, reprising a type we've seen him play more than a few times before), and his best friend Kirby (Coppola's cousin Jason Schwartzman), a Jewish musician and stand-up comedian.
Interleaved with this fragile storyline (and yes, the above is pretty much it) are fantasy sequences à la Walter Mitty, many of which revolve around old-school domineering women skits that come on as a cross between Benny Hill and a vintage Roxy Music album cover. In one, Swan is presented with the award for Best Bullshit by the Academy of Sexy Women; in another he and Kirby are cowboys encircled by an all-female posse of warlike injuns.
Some of this is mildly amusing, one or two scenes almost affecting, but never more than that. In the end, in a film where the production design has as much dramatic heft as the plot, relentless quirkiness swamps the audience's need to care for and identify with any of the characters, chief among them Sheen's smooth operator, who we know will get over Ivana soon enough.
The soundtrack by Liam Hayes (who records as Plush) carries echoes of the era, from Pink Floyd circa Dark Side of the Moon to soul blues. But the only time music really serves the film's dramatic arc is when the good times of the relationship between Ivana and Swan are evoked by another fantasy inset sequence in which the two perform a sweet, slightly cheesy cabaret-style version of Antonio Carlos Jobim's Aguas de Marco.
Production company: American Zoetrope
International sales: Independent, www.independentfilmcompany.com
Producers: Roman Coppola, Youree Henley
Executive producer: Michael Zakin
Cinematography: Nick Beal
Editor: Robert Shafer
Production designer: Elliot Hostetter
Music: Liam Hayes
Main cast: Charlie Sheen, Jason Schwartzman, Bill Murray, Patricia Arquette, Katheryn Winnick, Aubrey Plaza, Mary Elizabeth Winstead