Dir/scr: Kim Seong-hun. South Korea. 2014. 111mins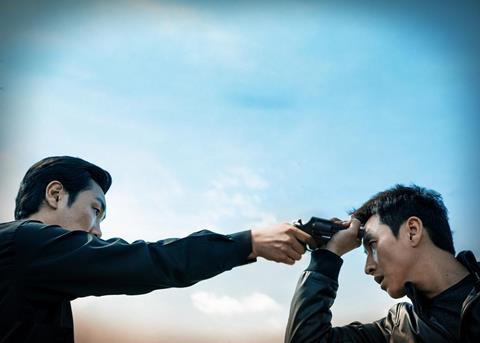 Refreshing and ultimately a great deal of fun, A Hard Day, finds the right balance in addressing issues such as corruption while also paying close attention to what makes a film compelling and engaging through its clever execution and witty script, and though it ends up following the same pattern as other South Korean thrillers, its opening half especially, is intelligently and skillfully crafted allowing it to break out as it premieres in the Cannes Directors' fortnight.
Full of suspense and amusement.
Featuring Hong Sang-soo regular Lee Sun-kyun (Our Sunhi ) who has also starred in a number of other local films including hit All About My Wife) together with the increasingly visible Cho Jin-woong (Nameless Gangster) playing the film's antagonist, this should help raise the film's profile locally, but it's the potential for strong word-of-mouth that will be the film's greatest asset when it's released in South Korea on May 29.
Its Cannes premiere will no doubt provide the film with the more extensive exposure on the international front it rightly deserves as it's set to be popular with buyers and programmers in search for an exhilarating Korean thriller.
The film follows a detective Gun-su (Lee Sun-kyun) who on the day of his mother's funeral kills a man in a hit and run accident, and seeks to cover it up and evade a possible manslaughter charge by placing the body in his mother's coffin at the mortuary.
At first, Gun-su believes he has successfully covered his tracks, but things soon turn sour when he begins getting phone calls from a man (Cho Jin-woong) who claims he saw everything and starts threatening him.
Meanwhile, it's also revealed that the man he hit turns out to be the main suspect in a homicide investigation, while his partner begins investigating the hit and run, which pops up on the police database.
Although this is by no means the first South Korean film to do so, it portrays the country's police force as somewhat unscrupulous in nature but does so in a semi-serious humorous tone reflective of the dark humor often associated with some of the best contemporary Korean cinema such as likes of Bong Joon Ho.
It's colourfully illustrated in a very amusing scene when Gun-su is stopped at a police check point to test his alcohol level where not only is he is later excused because he's a detective, he also comically ridicules the officers for not believing him that he is a detective in the first place.
It's also welcome to see a film that focuses less on bombastic action set-pieces and more on its script development, which is highlighted in the film's first half - most notably in a rather ingeniously crafted scene when Gun-su tries to get the body of the man he hit into the mortuary where his mother's corpse is located - all with the aid of a toy soldier action-figure crawling through an air vent, so he can put the body in her coffin where they will both lie at rest.
Full of suspense and amusement, the scene is indicative of Kim Seong-hun's potential as both a director and screenwriter who marks something of a comeback since he hasn't made a film since 2006 with How The Lack Of Love Affects Two Men.
While it's a shame the film climaxes in much the same way as other thrillers with a typical showdown between the two leads, it's refreshing to see less emphasis on building tension through large scale action sequences and more on utilising traditional forms of storytelling to lasting effect.
The two leads both perform to their strengths with Lee Sun-kyun able to convey a sense of innocence despite his character's lack of respect for the laws he's meant to enforce, while Cho Jin-woong plays a convincing villain. Though A Hard Day may not end in the same fashion as it began, it nonetheless remains a worthy accomplishment in both its overall direction and screenplay, which is bound to be of interest to those seeking out the latest South Korean thriller.
Production companies: AD406 and Dasepo Club
International sales: Showbox/Mediaplex , www.showbox.co.kr
Producers: Cha Ji-hyun, Billy Acumen
Executive producer: You Jeong-hun
Cinematography: Kim Tae-sung
Editor: Kim Chang-ju
Production designer: Lee Mi-kyoung
Music: Mok Young-jin
Main cast: Lee Sun-kyun, Cho Jin-woong, Jung Man-sik, Shin Jung-keun