Dir: Yaron Zilberman. US. 2012. 105mins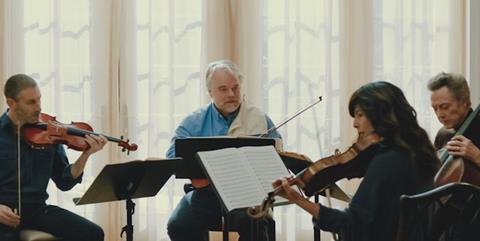 In some quarters, Yaron Zilberman's debut film will be considered too civilized, too tame and too well behaved for its own good, a criticism that is not entirely unjustified. Zilberman, previously known for his award-winning Watermarks (2004), has toiled at this project since, he pledged to make a film about a string quartet and classical music, not the most attractive project in the youth-oriented market of today, but, as hard as it may be to believe it, he actually kept his promise.
Smart, intelligent and moving performances by the leading foursome, who seem to grow more confident and assured in their roles as the film goes on.
The entire plot is entirely shaped around the crisis threatening to put an end to the successful 25 years career of The Fugue, a world-famous quartet. It naturally targets first and foremost classical music amateurs, not only those who listen to it but are also interested in the musicians playing it professionally. Adorned with a distinguished cast including Philip Seymour Hoffman, Christopher Walken and Catherine Keener, top flight musical performers on the soundtrack and with one of Beethoven's last string quartets, Op.131, providing most of the music, this may not be an all-around crowd pleaser but in its own specific niche, it's bound to be a winner.
Daniel Lerner (Mark Iwanir), a promising young violinist, started the Fugue with the help of his musical mentor, cellist Peter Mitchell (Christopher Walken) who then drafted a second violinist, Robert Gelbart (Hoffman) and Gelbart's soon to become spouse, viola player Juliet (Keener). Now, at the peak of their careers, the four of them are preparing a festive performance of Beethoven's monumental string quartet, reputed to be the composer's favorite.
A physical as well as a musical challenge, the performance - and with it the future of The Fugue - are endangered when Mitchell is diagnosed with Parkinson's disease, still in an early stage, and announces that he intends to retire immediately.
This decision opens a Pandora's Box of conflicts and confrontations that had been kept under lid for years, when every member of this tightly knit musical family was too concerned with their common career to allow their own personal considerations to interfere. Now, while Mitchell is waiting to see if medication can help him pursue his career a little longer, Gelbart decides he is no longer willing to be the eternal second violin and demands equal standing with Lerner, an obsessively driven perfectionist who turns him down.
On top of which, the Gelbarts have their own marital problems bringing them to the brink of separation and their daughter, Alexandra (Imogene Poots), a young and aspiring violinist, spits out her frustration for being neglected all through her childhood by her parents who were too busy touring and rehearsing to pay attention to her. Whether out of spite or sincerity, she starts a tentative affair with the reclusive Lerner, who takes it all more seriously than he should.
Music, however, remains the core. Everything being motivated by it and the way it fashions the personal lives of all the characters. Gelbart complains not only that his wife is closer to Lerner than she is to him, he also rebels against Lerner's musical leadership that, he claims, leads the entire quartet into musical rigidity and stagnation. Juliet has trouble facing a professional future without Peter's patriarchal presence and guidance, while Peter himself is still mourning for his wife, a distinguished soprano who had passed away a year earlier (a brief but lovely flashback of opera singer Ann-Sofie von Otter which offers yet another treat for the aficionados).
Smart, intelligent and moving performances by the leading foursome, who seem to grow more confident and assured in their roles as the film goes on; a script abounding in sensitive observations about the close ties established between four people who went through a quarter of a century in the company of each other, very similar and eventually even stronger and more painful to dissemble than an actual marriage, and some remarkable bits of musical performances on the soundtrack fill up a bill that no music lover should complain about.
Production companies: Opening Night Productions with Concept Entertainment, Spring Pictures, Unison Films
International sales: WestEnd Films, www.westendfilms
Producers: Tamar Sela, Yaron Zilberman, Vanessa Coifman, David Faigenblum, Emanuel Michael, Mandy Tagger Brockey
Executive Producers: Adi Ezroni, Ted Hartley, Peter Pastorelli, Cassandra Kulukundis
Screenplay: Yaron Zliberman, Seth Grossman
Cinematography: Frederick Elmes
Editor: Yuval Schar
Production designer: John Kasadra
Music: Angelo Badalamenti
Main cast: Philip Seymour Hoffman, Christopher Walken, Catherine Keener, Imogen Poots, Madhur Jaffrey, Liraz Charchi, Anne-Sofie von Otter, Wallace Shawn