Dirs: Ben Timlett, Bill Jones, Jeff Simpson. UK. 2012. 82mins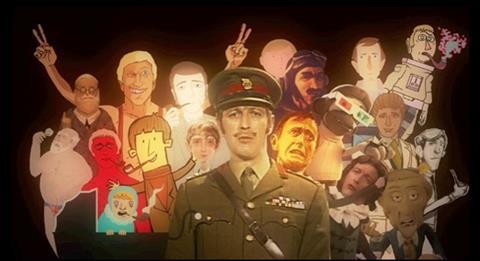 A swirling surreal animated romp through the life – real and imaginary – of Monty Python member Graham Chapman, this blissfully odd merging of a splendid variety of animation styles is a unique tribute to the man himself…and probably just how he would like to have been remembered – beguiling, complex, irreverent, charming and rather funny.
The film can essentially be described as a collage, switching from one 'chapter' to another, and allowing for it to also be a showcase of a number of young animators.
To give it its full title, A Liar's Autobiography: The Untrue Story of Monty Python's Graham Chapman is a striking memorial to a remarkable man, and a film that offers astonishing insight into the thought processes of a man who died some 23 years ago, mainly because it is based around recordings he made of his book.
It is a film of inspired madness, and will likely bemuse those who don't get Chapman's surreal sensibilities, but it is made with such clear love and affection that despite that fact that some sections work better than others, you can't help but be won over by the sheer ingenious oddness of the project.
The film– which can be shown in both 2D and stereoscopic 3D – can essentially be described as a collage, switching from one 'chapter' to another, and allowing a for it to also be a showcase of a number of young animators. The film itself credits three directors and uses 14 different animation companies working in 17 different styles, an while not overtly a 'Python' film, it does utilise the talents of many of the team members, and at time celebrates the unique Python comic sensibilities.
Graham Chapman joined the Cambridge Footlights at the same time as John Cleese and they became writing partners, with Chapman eventually giving up his career in medicine to become a full time writer and performer. In 1969 Cleese and Chapman teamed with Michael Palin, Terry Jones, Eric Idle and Terry Gilliam to form Monty Python, though Chapman continued to write for other shows.
He had come to terms with his homosexuality and met his long-term partner David Sherlock, but his alcoholism increasingly threatened his work, and after filming Monty Python And The Holy Grail the other Pythons gave him an ultimatum that he dealt with his problems. He eventually went cold turkey.
When the Python's eventually went their own way, he embraced no second career and instead in the 1970s became a tax exile in Los Angeles, and hung out with the like of Keith Moon and Harry Nilssen. By the mid-1980s he was back in England, but was diagnosed with throat cancer – he was a life-long pipe smoker – and died in October 1989, aged just 48.
His recordings of his book are extracted – and sometimes merged with new recordings of other voices – and recount his years in medical school, his first meeting with longtime writing partner Cleese at Cambridge, the high days of Python, his coming-out as a gay man (or 70% gay, according to a survey he conducted on himself), and, of course, his abduction and transport to the heavens by space aliens at the end of the eighties. His delight in lying was kept intact until the end of his life.
The series of short animated films – which include sections on Oscar Wilde, teen sex, Biggles, Cambridge, coming out, parties and space pods – are all surreal and strange, often very funny and always intriguing.
As well as the voices of Pythons Cleese, Palin, Jones and Gilliam (Eric Idlie is noticeable by his absence), also featured are Python regular Carol Cleveland as well as Stephen Fry, Tom Hollander, Lloyd Kaufman and – perhaps most surreally - Cameron Diaz as the voice of Sigmund Freud
Production compan;y Bill & Ben Productions
International sales; SC Films International, www.scfilmsinternational.com, US sales Brainstorm Media, www.brainmedia.net
Producers; Bill Jones, Ben Timlett
Executive producers; Meyer Shwarzstein, Mark Sandell, Aurelio Landolt, Hanspeter Jaberg, Mark Greenberg, Douglas A. Lee
Animation producer; Justin Weyers
Screenplay: Graham Chapman, David Sherlock, Douglas Addams, David Yallop and Alex Martin, based on the book A Liar's Autobiography (Volume VI)
Editor; Bill Jones
Music; John Greswell, Christopher Taylor
Main cast: Graham Chapman, John Cleese, Terry Jones, Michael Palin, Terry Gilliam, Cameron Diaz, Carol Cleveland