Dir: Nicole Kassell. US. 2011. 108mins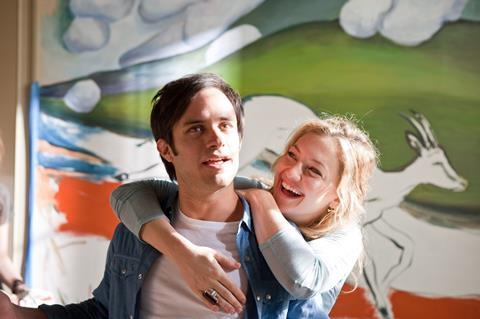 This rom-com-drama - with 'illness-of-the-week' and 'failure-to-commit' subplots thrown in for good measure - offers some good-natured rom-com moments, though the shadow of the illness aspect means that the plot never really settles and may well be a tough sell to audiences on the back of familiar-feeling Love & Other Drugs and No Strings Attached. The film opens in the UK on February 4, with no US date in place yet.
There are certainly moments to enjoy here, and there is no denying Kate Hudson's charm and enthusiasm.
The strong cast is headed by Kate Hudson in charm-overdrive and Gael Garcia Bernal offering his subtle and quirky charisma to the role as the doctor who slowly falls for his cancer patient (Hudson). Add to the mix Kathy Bates and Treat Williams as her parents; Brit comedienne Lucy Punch as her wacky best pal and a cameo by Whoopi Goldberg as God, and you have a relatively potent mix that will certainly appeal when the title reaches DVD and Blu-Ray.
But the script, which lurches between comedy, domestic drama, tears and romance, can never really find an even balance and despite some moments of real charm the story never settles down enough to completely engage.
Marley Corbett (Hudson) is a young and exuberant advertising executive who is first seen pitching her plans to a condom-manufacturer, explaining to the bemused fuddy-duddy executives that women talk about sex as much as men…which somehow seems to seal the deal.
Marley herself is a commitment-phobe – her parents (played enthusiastically by Kathy Bates and Treat Williams) have long been separated – and while enthusiastic about a man having sex with her, she doesn't want him to stay over.
When she starts to feel increasingly unwell she visits the hospital, where she meets Dr Julian Goldstein (Bernal) – cue a few Jewish-Mexican doctor jokes – who diagnoses her with cancer. She tries to deflect things with humour, but also finds herself attracted to this genial and straight-talking man.
During an examination when she is under anaesthetic she imagines herself up in heaven and wanders around the clouds where she comes across God…or rather Whoopi Goldberg, who – it turns out – is how Marley imagines God would be. There is some rather half-hearted plot device about Marley being given wishes (which include flying and getting a million dollars), but the scenes are really an excuse for a few lessons about life and love.
Naturally enough, back on planet Earth Marley manages to bump into Dr Julian at a New Orleans jazz club, and the two start a stuttering romance. But despite everything she still can't bring herself to let him get too close. It is only when she makes up with her father and learns to appreciate how people feel about her and is at death's door does she finally admit that she does love Julian.
Frustratingly for the film there is just too much going on – and sub-characters slugging it out for screen time – to let the story settle on the key aspects of the plot. Not only does Marley have the obligatory bickering parents, but there are also three best pals – an impressively funny Lucy Punch as long-time buddy Sarah; Romany Malco as gay next-door neighbour Peter and Rosemarie DeWitt as married-mother buddy Renee – to deal with.
Cinematographer Russell Carpenter makes the New Orleans locations look fantastic, which goes a long way to helping the overall stylish look of the film, while Nicole Kassell (who made The Woodsman) directs with a certain energy, but can never quite wrangle the material together.
The film's genuinely funny moment comes with a cameo from Peter Dinklage who plays a diminuative gigolo recruited by neighbour Peter to show Marley a good time. He announces enthusiastically to a bemused Marley that he is so good at his job that his nickname is "A Little Bit of Heaven". There are certainly moments to enjoy here, and there is no denying Kate Hudson's charm and enthusiasm, but just quite how the film best sells itself to audiences is still not really clear.
Production company: Davis Entertainment, The Film Department
International sales: The Weinstein Company, www.weinsteinco.com
Producers: John Davis, Mark Gill, Robert Katz, Adam Schroeder
Executive producer: Neil Sacker
Screenplay: Gren Wells
Cinematography: Russell Carpenter
Editor: Stephen A. Rotter
Production designer: Stuart Wurtzel
Music: Heitor Pereira
Main cast: Kate Hudson, Gael Garcia Bernal, Lucy Punch, Kathy Bates, Treat Williams, Romany Malco, Rosemarie DeWitt, Whoopi Goldberg, Steven Weber, Peter Dinklage