Dir: Casey Walker. Canada. 2011. 88mins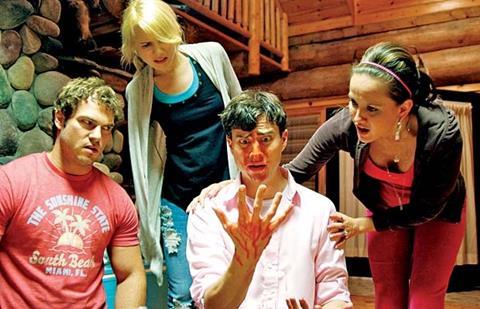 The zombie movie as a comedy/horror sit-com is the name of the game in Casey Walker's assured and entertaining A Little Bit Zombie, which has successfully been playing the horror fest circuit as well as having a strong release in Canada. It is a knowing and affectionate genre movie, and a welcome addition to the ever-expanding line-up of zombie films.
The effects and performances are top-notch, which says a great deal given the film's low-budget origins.
It won the Gold Remi Award for Best Dark Comedy at the WorldFest-Houston International Film Festival and Best Feature Film at the Canadian Film Festival, and recently made it to Europe with a Midnight Screenings slot at the Karlovy Vary International Film Festival.
Casey Walker, who makes his feature debut with the film, clearly has a fondness for the genre, and the opening scenes have clear references to Shaun Of The Dead and Tim Burton, but takes the bold step of playing A Little Bit Zombie largely for laughs while also layering enough blood-and-gore to keep horror fans happy.
The film opens in fully fledged zombie action territory as shot-gun toting zombie killer Max (Stephen McHattie) and his scientist assistant Penelope (Emilie Ullerup, from fantasy TV series Sanctuary) fighting off a band of zombie attackers. The POV then cleverly switches – in a similar fashion to the opening of Men In Black) to a mosquito that happens to have drawn the blood of one of the zombies.
The now seemingly-indestructible mosquito heads off in search of a new victim, eventually coming across four bickering friends who are heading off to a remote cabin in the woods for a brief vacation. They are genial groom-to-be Steve (Kristopher Turner); his highly-strung and fiercely organised bride-to-be Tina (Crystal Lowe, from Black Christmas and Wrong Turn 2); his sister Sarah (Kristen Hager), who has a fierce dislike of Tina, and Sarah's muscle-bound but good-natured partner (and Steve's best man) Craig (Shawn Roberts).
Steve gets infected by the mosquito and starts to turn into a zombie…much to the annoyance of Tina. The problem is that he is only a little bit zombie (he yearns for human brains) and still very much human. Tina is determined that nothing will stand in the way of her wedding and Sarah is equally determined to help for brother – so they all bond together to try and find ways finding Steve the food he needs and hoping he remains a little bit human.
They track down brains at a local store (but not really the right kind), and in an act of desperation Tina and Sarah bond together as they slip into their tightest, shortest, dresses to try and snare a drunken redneck (in this case the hulking former wrestler Robert Maillet, who had roles in 300 and Immortals) to try and get some human brains. Before long, though, there is an expected and bloody showdown with Max and Penelope.
There are times in the cabin when the foursome play their roles deliberately hammy – with lots of knowing double-takes, dream sequences and deliberate comedy delivery – but this actually helps inject the film with a great sense of fun, and while there are some nice moments of gore (Stephen McHattie makes a great zombie hunter) and the balance between horror and comedy is glossily sustained. The effects and performances are top-notch, which says a great deal given the film's low-budget origins.
A smart script by Christopher Bond and Trevor Martin and shrewd direction by Casey Walker help make A Little Bit Zombie a nice little cult pleasure, and one likely to appeal – probably largely on home entertainment – to genre fans.
Production company: Cave Painting Pictures
Producer/sales contact: Casey Walker, casey@mymilliondollarmovie.com
Screenplay: Christopher Bond, Trevor Martin
Cinematography: Kevin C Wong
Editor: Michael Mason
Website: www.alittlebitzombie.com
Main cast: Kristopher Turner, Crystal Lowe, Shawn Roberts, Kristen Hager, Stephen McHattie, Emilie Ullerup, Robert Maillet