Dir/scr: Lee Kwang-kuk. South Korea. 2014. 99mins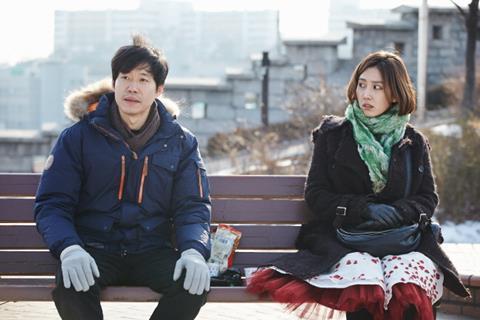 Lee Kwang-kuk's whimsical tale of dream interpretation is perhaps guilty of being overly repetitive, but it nevertheless may prove to be one of the strongest local films to world premiere at the Busan International Film Festival owing to its intelligent narrative structure and enchanting delivery.
It remains an intriguing and delightful film with plenty to ponder on for audiences both home and abroad.
Lee whose debut feature Romance Joe premiered in Busan in 2011 where he won the Citizen Critics' Award is poised to repeat the film's success on the festival circuit where it invited to both Vancouver and Rotterdam, while on the local market, potential strong word-of-mouth could result in a respectable theatrical run for this independent feature.
A Matter Of Interpretation (Kkum-bo-da Hae-mong) begins in a small theatre where a disgruntled actress storms out after she expresses her frustration towards her somewhat apathetic cast members when no-one turns up to see their play. She soon finds herself in a local park meeting her boyfriend who attempts to comfort her after it's revealed she lost a part in a film to a star, but frustrated with their lives and their struggle to make ends meat, she breaks up with him. The actress then meets a curious detective who after reprimanding her for smoking in the park, then surprises her with his apparent gift at interpreting dreams.
Lee's impressive form of storytelling then takes the viewer into these dreams and also interrelating it to a suicide case he's been assigned to making it difficult to differentiate what is part of the dream and what is not, but Lee is careful not to make the narrative too abstract confusing the audience; rather it becomes part of an enjoyable and illuminating experience.
In fact it's Lee sharp wit that plays a significant part in maintaining the film's steady rhythm as evident in the well-scripted characters and the compelling interactions they have mimicking some of the spontaneity found in Korean cinema such as the films of his mentor Hong Sang-soo whom he has worked under as an assistant director on four of his films including Hahaha.
Visually, Lee and his team have taken much care to ensure the film's mise-en-scène such as the use of colours, and props, which include a small automobile and pocket watch that remain as a point of focus for the audience providing them with clues as the narrative unfolds.
Starring Hong Sang-soo regular Yu Jun-sang (In Another Country), his endearing persona is a suitable fit for the detective while the brazen actress is convincingly played by Shin Dong-mi who also starred in Lee's Romance Joe. Kim Kang-hyun (A Hard Day), meanwhile, as the boyfriend further demonstrates his skill at tackling particular roles making him an increasingly tangible presence in films.
Although the film doesn't outstay its welcome in terms of its duration nor are there issues with the film's pacing, the feature becomes a little monotonous as the subject of dream interpretation is taken as far it can go. But it remains an intriguing and delightful film with plenty to ponder on for audiences both home and abroad.
Production company: Byeokdol Films
International sales: M-Line Distribution, www.mline-distribution.com
Producer: Lee Kwang-kuk, James Do
Screenplay: Lee Kwang-kuk
Cinematography: Gang Dae-hee
Editor: Son Yeon-ji
Music: Jeong Yong-jin
Main cast: Shin Dong-mi, Kim Kang-hyun, Yu Jun-sang