Dir/scr: Rodrigo Moreno . Argentina-Germany. 2011. 112mins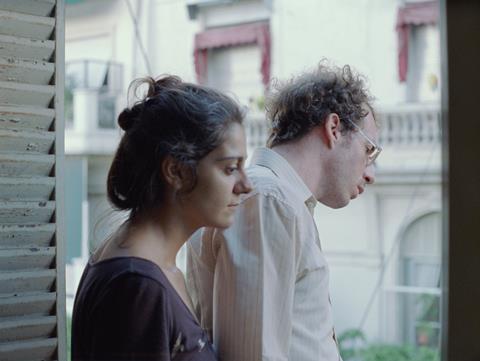 An adult Argentinean Napoleon Dynamite dithers through life, relationships and Buenos Aires in Rodrigo Moreno's quirkily existential but ultimately grating follow-up to El Custodio. Boris, the geeky, passive, introverted central character, is a kind of walking absence, and Esteban Bigliardi's performance nails his lost Everyman status with some finesse, but this, some moments of comedy, and the film's contention that life is one big waiting room, are not enough to make up for a for a viewing experience that is, for long stretches, plain dull.
A Mysterious World is an austere and minimalist ride.
Supported by a handful of European backers including the Berlin-Brandenburg Medienboard, Moreno's film A Mysterious World (Un mundo misterioso) is a choice for the Berlinale competition. This is the kind of small, original indie title that one might expect to show up in the Forum sidebar.
Buyers may not be swayed by the prestige berth; there might be a place for this at the film club end of the theatrical spectrum, or in the sort of urban arthouses that are open to small Latin American curios like 25 Watts or Duck Season - but A Mysterious World is an even more austere and minimalist ride than either of those.
In one of the film's few wordy scenes, Boris is discussing a pulp novel with a friend and a bookseller. The bookseller has just complained that nothing really happens at the end of this Grand Prix thriller. "It's good that nothing happens", the friend counters. "Why should anything happen?".
If Moreno's film has a message-line, it's this. In the director's previous outing, El Custodio, we followed a passive and put-upon politician's minder for 90 excruciatingly empty minutes until he explodes into violence. Here, we follow Boris (Bigliardi), a tall, ginger-haired bespectacled geek, apparently in his early thirties, who seems to be born with a congenital lack of will, through more than a hundred empty but occasionally droll minutes of pointless actions and odd encounters, until he doesn't explode, or change in any way.
At the beginning of the film, in a long scene filmed on a crumpled post-coital bed, Boris's surprisingly pretty girlfriend Ana (Rainero) tells him they need some time apart. Boris objects mildly, but soon moves into a drab hotel, where he does sit-ups while smoking, and scrolls through the ringtones on his mobile phone.
He doesn't seem to have a job; we never hear of a family, or get any backstory at all. Soon he's buying a baby-blue secondhand car made by a Romanian firm called Tokha which, as he says, looks very much like a Renault 6 (it is, in fact - there's no such make as the Tokha).
He takes it for a country run and, of course, it breaks down. Later, in the previously mentioned bookshop scene, he bumps into an old school friend (Uria), who invites him to a party. When he gets there, there's something oddly early-seventies about the whole scene - the décor, haircuts and clothes of the mild-mannered singles who chat and drink in this Buenos Aires pad are a touch retro (when he gets off with a girl, even their kissing is early-seventies).
These touches - the invented car brand, the period tweaks, the recurring motif of the car's obscured windscreen (it's either covered with water because the windscreen wipers don't work, or smeared with mud when they do) - move us into a kind of dream space, suggesting that Boris's directionless meander though whatever fate throws at him has some greater resonance. But that doesn't make it any less of a directionless meander.
Boris is invited to continue the party at a house across the border in Uruguay, but he doesn't have his passport on him. He goes back to get it and takes the ferry across the Rio de la Plata, but when he gets there he has no address, and nobody is answering their phone; so after waiting a while, he takes the ferry back again.
Shot in boxy 1:1.33 format - another retro touch - and set during a long hot summer, this is a visually brighter and more colourful film than its story might suggest.

Production companies: Rizoma, Rohfilm
International sales: The Match Factory, www.the-match-factory.com
Producers: Natacha Cervi, Hernan Musaluppi
Co-producers: Benny Drechsel, Karsten Stoter, Anne Tetzlaff
Cinematography: Gustavo Biazzi
Production designer: Gonzalo Delgado
Editor: Martin Mainoli
Main cast: Esteban Bigliardi, Cecilia Rainero, Rosario Blefari, German da Silva, Leandro Uria, Hernan Oviedo, Lucrecia Oviedo