Tale of the British royal romance set to hit the small screens with new DVD release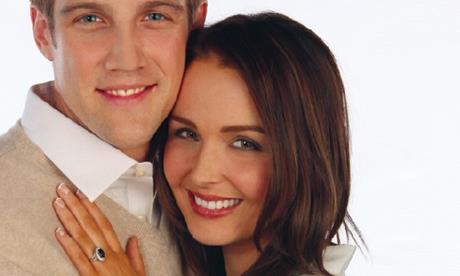 With the much-anticipated (in the UK at least where folk are being given a public holiday) Royal Wedding just around the corner, film fans are being given a chance to delve further into the royal romance with the new straight-to-DVD title William & Kate: The Movie.
Shot – oddly – entirely in Los Angeles and 'inspired by true events', according to the press material ,the film 'cordially' invites viewers to 'relive the highs and lows of the couple's nine-year courtship: as they attempt to maintain a normal relationship despite family pressures and intense media attention'.
The film, released into the UK by Revolver Entertainment on April 25, concludes with the Royal Wedding itself, which in real life is being held on Friday April 29.
Apparently the movie features some of the most iconic highlights of the couple's relationship - from the moment when the future king paid £200 to watch Kate model in a charity catwalk show, to the first time his future bride met the royal family, and the romantic day he proposed to Kate in Africa.
British actress Camilla Luddington stars as Kate Middleton, with New Zealand-born actor Nico Evers-Swindell as Prince William. Luddington has previously had roles in Days Of Our Lives and CSI, while Evers-Swindell has appeared in Law & Order and Edge Of Darkness.
Describing her role Luddington said: "Viewers are going to get a great love story. If you're a romantic at heart you're going to love it."
Produced by nine-time Emmy decorated Frank Konigsberg, the film co-stars Ben Cross (Chariots of Fire) as Prince Charles; Serena Scott-Thomas (Nip/Tuck) as Kate's mother Carole, and Samantha Whittaker (Casualty) as Kate's best friend.