The anticipated first feature to be co-directed by the UK's Stephen Merchant and Ricky Gervais is a 1970s-set comedy celebrating the joys of friendship and the working life. Sarah Cooper visits the set.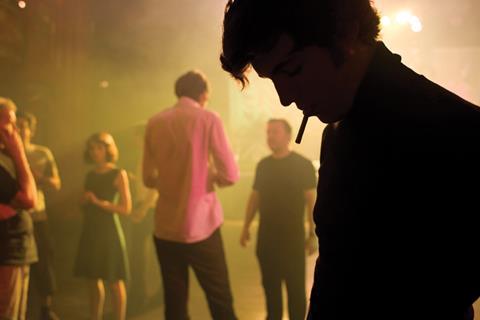 Among the usual brigade of office workers and pigeons in Bloomsbury Square, London, is an odd collection of characters: a man wearing Cuban heels and tuxedo sits on a bench while a woman with feathered hair strolls across the lawn in a bright pink ball gown.
This is not the start of a 1970s fashion revival - it is lunchtime on the set of Cemetery Junction, the first joint feature from Ricky Gervais and his long-term writing, producing and directing partner Stephen Merchant. And in typical London style, the regulars do not even look up from their sandwiches.
Men at work
Set in 1973, Cemetery Junction is the story of three childhood friends who spend their days chasing girls and getting into scrapes. Originally called 'The Man From The Pru' (one of the characters works for the Prudential insurance company), the title was changed after the real-life firm objected.
The film's new title refers to a place in Gervais' home town of Reading, although he says the film is not strictly autobiographical.
"It's more about celebrating a memory," says Gervais. "When I was growing up, there was a nobility in poverty. No-one sat around feeling sorry for themselves."
The three leads are played by UK newcomers Christian Cooke, Tom Hughes (one of Screen's 2009 Stars of Tomorrow) and Jack Doolan. They star alongside Ralph Fiennes, Emily Watson, Matthew Goode and rising Brit star Felicity Jones, who has recently wrapped on Julie Taymor's The Tempest. There are also cameos from Gervais and Merchant, which explains why the latter is sporting an impressive 1970s-style moustache.
The 35-day shoot has taken in various London locations as well as sites in Oxfordshire, the East Midlands and three weeks at Shepperton Studios.
"To create a sense of the 1970s, we had to take bits from here and bits from there," explains one of the film's producers, Charlie Hanson, who also producedGervais and Merchant's TV show Extras.
"It is to get one entity in the UK to put up enough money. We would have needed at least four or five parties contributing."

Charlie Hanson
The film's other producer is Sue Baden-Powell, who executive produced Gervais' feature directorial debut The Invention Of Lying which is being distributed in the US by Warner Bros and internationally by Universal, and is due to be released in the UK in October. "One morning last September, when I was in Los Angeles, Ricky called me saying that he and Stephen were doing this movie and they wanted me to produce with Charlie, who I didn't know," Baden-Powell recalls. "It meant Charlie and I had to develop a relationship very quickly via Skype."
Pulling together the financing was not as easy as the producers had hoped."The Invention Of Lying was made by a company we actually thought was going to make this film, Media Rights Capital, but then the financial meltdown happened in the US and they didn't want to give us what I thought was enough to make the movie," says Baden-Powell. So the producers started to offer around the project, with Hanson trying to secure financing in the UK. "I realised how difficult it is to get one entity in the UK to put up enough money. We would have needed at least four or five parties contributing," he explains.
The situation changed when Deborah Schindler, president of Sony's international division, heard about the screenplay and contacted Gervais and Merchant's agent Duncan Hayes at London-based United Agents. After reading the script, she flew to the UK to meet the pair and agreed Sony would fully finance in return for worldwide rights. "We went with Sony International because as well as being able to fully fund the film in the UK, we felt they very much understood the English-language market place," says Baden-Powell.
Sony's international division, whose films include Crouching Tiger, Hidden Dragon and Kung Fu Hustle, was originally set up to release local-language pictures. But its remit extended to English-language UK films such as Snatch and most recently The Damned United, which will be released in the US in September. Although the producers will not reveal the budget of Cemetery Junction, they will say it did not change when Sony came on board. "The budget we started with on day one never changed and was always the modest amount of money I felt we comfortably needed to make the movie," says Baden-Powell.
"With the awareness of Ricky and Stephen from their television work and Ricky from his other film work, I really believe it will have an audience."

Sue Baden-Powell
The producer says another advantage of teaming with the studio was to have "the full machine of Sony" behind a possible US release. But this will depend on how well the film is received in the UK when it is released next April. Schindler, who is on set having flown in from Los Angeles, is hopeful: "With the awareness of Ricky and Stephen from their television work and Ricky from his other film work, I really believe it will have an audience."
Merchant credits the experience the pair gained from The Office and Extras as invaluable on this project. "We wouldn't have been as confident when we first did The Office. It's about knowing what you don't need to film. When we first started we were inexperienced and so we were shooting from every angle."
He also notes that they worked on Extras with a succession of A-list acting talent including Samuel L Jackson and Kate Winslet. "Working with stars primed us to be able to work with people like Ralph [Fiennes] and be able to talk to them and explain what we want."
Gervais says a key element was having written the screenplay themselves. "If someone handed me a script and said, 'Direct it', I would panic. Because,especially with comedy, direction comes from writing."
The pair were keen to steer clear of the "slightly grotty British movies of the period, which looked like they were using the cheapest stock they could find," says Merchant. Instead they are working with "the colour palate of our memories - maroons and yellows".
Fever pitch
"We are trying to capture the same excitement as Saturday Night Fever," says Gervais. "No-one felt sorry for John Travolta because he worked in a hardware shop and was going nowhere. They thought he was the fucking coolest guy they had ever seen and wanted to be like him. That's what we're trying to do with these guys." Merchant adds: "If you look at photos of back then, we weren't all sitting around looking gloomy because we didn't have much money and it was 1973. We were all having a whale of a time."
It is an atmosphere they have cultivated on set, where they are now shooting a scene involving an awards ceremony in a ballroom at London's Victoria House. If Gervais and Merchant are fazed, they do not show it. "We often had a spoofy clip of a film in Extras and we used to spend a lot of time trying to make them look cinematic," says Merchant. "In a way, that's what we're doing now - just properly."