Dir/scr: Scott Frank. US. 2014. 114mins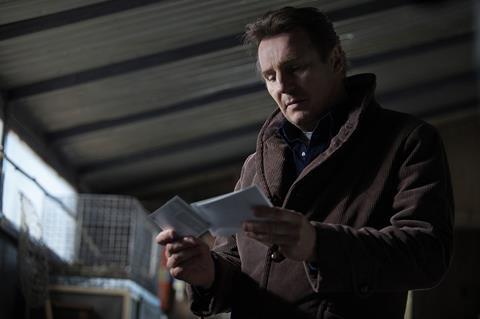 Grittier and edgier 1970s style crime dramas are very much en vogue at the moment, and Scott Frank's impressively dour and dangerous crime-thriller is the perfect vehicle for Liam Neeson to play a tough and troubled investigator who finds himself caught up in a deadly and disturbing case that is like nothing he has ever tackled before.
It is nice seeing Neeson playing an old-fashioned private eye – less martial arts action pummelling the bad guys and more gumshoe pounding the streets.
Comparisons may well be drawn with his Taken films, given that his grizzled detective Matt Scudder is out walking the mean streets of New York trying to track down a kidnap victim, but the troubled and recovering alcoholic Scudder is as far as away from Neeson's cool-and-confident all-action hero from the Taken films as could be imagined, with A Walk Among The Tombstones a gritty crime procedural rather then an out-and-out action adventure.
An action-packed trailer and Neeson's solid reputation for hard-boiled action films should help the film's opening – via Universal in the US and eOne in the UK – though solid word-of-mouth and positive reviews will help it to stay strong over a busy box office period.
A Walk Among The Tombstones is based on the 10th book (with the same title) of Lawrence Block's best-selling series about private detective Matthew Scudder and his quest for redemption. But the film adaptation set in 1999 just before the millennium – which features a delve in Scudder's early years before throwing him deep into a disturbing and dangerous case – is the perfect scene-setter for a film that could spiral off into a franchise.
Scudder is an ex-NYPD cop who now works as an unlicensed private investigator operating just outside the law. He reluctantly agrees to help drug trafficker Kenny Kristo (Dan Stevens, once of Downton Abbey) to hunt down the men who kidnapped and then brutally – very brutally – murdered his wife. As Scudder finds out that this isn't the first time the men have kidnapped and killed he comes to realise that they are seriously deranged deviants.
He starts to use Kristo's crime contacts to unearth the truth of where the killers are getting their information on whom to target, with the film heading off into a dark and bloody climax with Scudder realising that these sociopaths are far, far, different and much more dangerous than the usual NY criminals he had dealt with in the past.
The film is very much a mannered and leisurely paced old school crime mystery, with Liam Neeson in top form as a cop who knows his limitations but who will also go the extra mile when it comes to tackling a crime that he finds so offensive that it must be dealt with. His gravelly charisma and sheer physical presence mean that Scudder is an impressively mean and moody lead character. It is impressively directed by Scott Frank (who wrote/directed the rather neglected The Lookout and scripted films such as Out Of Sight and Minority Report), who has a keen sense of the mood of the pre-millennium period and the general paranoia that accompanied it and who also draws out great performances from his cast.
It is nice seeing Neeson playing an old-fashioned private eye – less martial arts action pummelling the bad guys and more gumshoe pounding the streets – and he is delightfully complemented by Dan Stevens' heroin trafficker whose skewed moral compass sees him turn into a kind of anti-hero as his sleazy Kenny Kristo helps Scudder with his investigations. Also impressive is Contraband's Ólafur Darri Ólafsson as cemetery groundskeeper James Loogan, who proves to have more than a passing connection to one of the victims.
Production companies: 1984 Private Defense Contractors, Cross Creek Pictures, Da Vinci Media Ventures, Double Feature Films, Exclusive Media Group, Free State Pictures, Jersey Films, Traveling Picture Show Company
International sales: Exclusive Media Group, www.exclusivemedia.com
Producers: Tobin Armbrust, Danny DeVito, Brian Oliver, Stacey Sher, Michael Shamberg
Executive producers: Kate Bacon, Guy East, John W Hyde, Tracy Krohn, Mark Mallouk, Peter Mallouk, Kerry Orent, Lauren Selig, Adi Shankar, Spencer Silna, Nigel Sinclair, Tyler Thompson, Richard Toussaint
Cinematography: Mihai Malaimare Jr
Editor: Jill Savitt
Production designer: David Brisbin
Music: Carlos Rafael Rivera
Website: www.awalkamongthetombstones.net
Main cast: Liam Neeson, Dan Stevens, David Harbour, Adam David Johnson, Brian 'Astro' Bradley, Boyd Holbrook, Ólafur Darri Ólafsson, Sebastian Roache, Mark Consuelos, Danielle Rose Russell