Dir/scr: Fernando Coimbra. Brazil. 2013. 101mins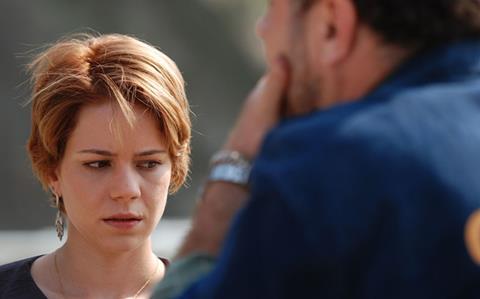 A dark and disturbing thriller about a kidnapped child, the strikingly bleak and dark A Wolf At The Door (O lobo atras da porta) – which screened at the Rio Film Festival following its premiere at San Sebastian – follows on from the tense themes of its bigger budget US counterpart Prisoners, but puts its own very striking spin on an already chilling story.
The revelation is the strikingly open and emotionally vibrant performance from Leandra Leal
An absorbing and challenging drama-thriller, Fernando Coimbra's impressive film will likely be a festival favourite, and while it lacks the more traditional 'thriller' structure that has made Prisoners so successful it stands a good chance of formal distribution with discerning distributors. Latin American releases will also be very likely.
The set-up is a familiar one - and much used in TV cop dramas as the like - as Sylvia (Fabiula Nascimento) arrives at school to pick up her daughter, only to find that she has already left with another woman. The spiraling storyline revolves around Sylvia, her husband Bernardo (Milhem Cortaz) and Rosa (Leandra Leal) his lover, with initially all of them offering subtly different variations on events surrounding the girl's disappearance.
But as the film draws on, Rosa has a different story to tell, as it turns out – in true Fatal Attraction fashion as the story backtracks – that she is obsessed with Bernardo who had tried to break up with her, and is pregnant with his child. She begins an unlikely friendship with Sylvia and when Bernardo has a harsh response to her pregnancy she takes her own form of revenge.
The revelation is the strikingly open and emotionally vibrant performance from Leandra Leal as Rosa, a woman who loved passionately and also saw a chance to escape the drudgery of her life. While Cortaz and Nascimento are suitably tortured and tormented by the happenings, it is Leal who dominates proceedings, and is certainly a talent to watch develop. A Wolf At The Door is a tough film certainly – but also an absorbing one.
Production company/contact: Gullane Entertenimen to S.A, http://gullane.com
Producers: Caio Gullane, Fabiano Gullane, Debora Ivanov, Gabriel Lacerda, Rodrigo Castellar, Pablo Torrecillas

Cinematography: Lula Carvalho

Editor: Karen Akerman
Production designer: Tiago Marques

Music: Ricardo Cutz

Main cast: Leandra Leal, Milhem Cortaz, Fabiula Nascimento, Juliano Cazarre, Paulo Tiefenthaler, Karine Teles