Dir/scr: Richard Curtis. UK. 2013. 123mins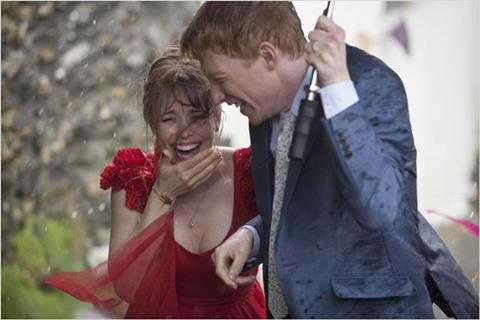 A warm-hearted time-travelling romantic comedy that ticks a lot of the right emotional and humour boxes without ever completely finding its right balance or tone, the latest film from Richard Curtis (who wrote and directed Love Actually and scripted Four Weddings And A Funeral) will amuse, entertain and beguile many who buy into its tender and fuzzy tale, though at the same time its niggling sense of familiarity to his other films and a rather ponderous structure may hamper its ability to fully click with audiences desperate for some rom-com fun-and-games.
Though on the surface – and to look at trailer – one might assume About Time is a typical boy-meets-girl love story, but in truth its real heart lies in the relationship between Tim and his Dad.
About Time, which had its world premiere as the opening night of London's Film4 Somerset House outdoor screenings and also screens at the Locarno Film Festival, is brimming with delicious trademark Richard Curtis dialogue gems; makes wonderful use of London and Cornwall locations, and while (and this is a regular criticism of his work) a little too revelling in its comfortable middle-class backdrop it regularly hits the emotional sweet-spot, especially when it comes to the tender and moving father-and-son relationship between the characters played by Bill Nighy and Domhnall Gleeson.
Time-travelling tales always have the capacity to tie themselves into knots, and it is the same occasionally with About Time, but while there are a few "well, why didn't he just go back and…." moments, Curtis smartly keeps his time travel rules fairly simple. In this instance it can only happen when a man in the family is 21; he can only go back to an event in his own past he can remember and – naturally enough – each decision will have ramifications on his future. And, rather charmingly, his mode of time travel transport is that he must go into a dark space (usually a cupboard), clench his fists and think back to the place/time he wants to go to.
After yet another unsatisfactory New Year's Eve party at his parents' delightful Cornish home (right on the beach, beautiful views etc) 21 year-old Tim (Gleeson) is taken to one side by his father (Nighy) and told the family secret, that the men in the family have always had the ability to travel through time. Naturally very sceptical, he eventually learns that it is true, and when asked by his father (who used his ability to read voraciously) what he plans to do with this gift, Tim simply says that he wants to use it for love and to find a girlfriend.
He moves from Cornwall to London, starts training as a lawyer, but has little luck on the female front. That is until he meets beautiful but rather insecure Mary (Rachel McAdams) and falls desperately in love. An unfortunate time travel incident means that their first meeting never occurred (the pesky perils of time travelling) but he sets about meeting her again, and after a few Groundhog Day-type time travel manoeuvres he manages to win her over.
As their life progresses they grow together, marry, have children and embrace life, but Tim comes to realise that his gift can't always protect him from the dramas of life, especially when they involve family. He comes to realise that he must use his ability simply to try and enjoy life to the full and to make the most of what life has to offer.
Though on the surface – and to look at the trailer – one might assume About Time is a typical boy-meets-girl love story, in truth its real heart lies in the relationship between Tim and his Dad. As usual Bill Nighy is great (well, he is Bill Nighy after all, brimming with cool quirks and delightful line delivery), but there is a real tenderness between the two of them together, and that relationship forms the soul and spine of the film.
The chemistry between Domhnall Gleeson (charming) and Rachel McAdams (a delightful performer as always and an expert at rom-coms) grows rather than glows, and there is no denying there are some delightful moments in their fumbling romance, but at times the film spreads its net too wide (it runs over two hours, and should be shorter and tighter) as it has to try and find space for a series of interesting though sometimes not entirely necessary support characters.
The fact that there are familiar Richard Curtis elements to the film (a wacky sister, a bumbling old friend) and because the dialogue is often so witty that you can almost hear Hugh Grant coming out with the lines, means that there is a real sense of familiarity to About Time. The Cornish house and easy London lifestyle are almost too smugly middle-class and effortlessly comfortable, but while it is easy to criticise, there is also something disarmingly honourable about Richard Curtis's good-hearted and positive worldview. He clearly believes in love, family, friendship and the fact that if we want to we can all view life more positively…and About Time is him being charmingly evangelical about that simple fact.
Production company: Working Title Films
Distribution: Universal Pictures
Producers: Tim Bevan, Eric Fellner, Nicky Kentish-Barnes
Executive producers: Liza Chasin, Amelia Granger
Cinematography: John Guleserian
Editor: Mark Day
Production designer: John Paul Kelly
Music: Nick Laird-Clowes
Website: www.abouttimemovie.com
Main cast: Rachel McAdams, Domhnall Gleeson, Bill Nighy, Lydia Wilson, Lindsay Duncan, Tom Hollander, Margot Robbie, Richard Cordery, Will Merrick, Joshua McGuire