Dir: Naoki Kato. Japan. 2010. 113mins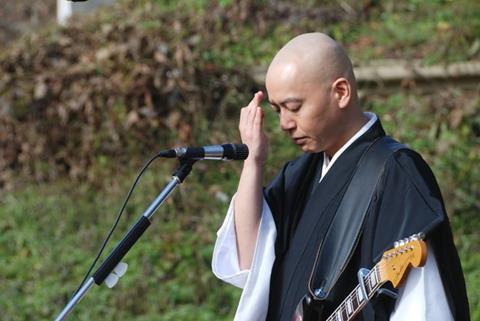 Abraxasis a drama in which nirvana is not a band started by Kurt Cobain. The hero of Naoki Kato's debut feature is a Buddhist monk who's also a punk auteur chafing at the strictures of his religious vocation.
Abraxas is an appeal for tolerance.
Abraxascould drag in a few die-hard Santana fans (although it has nothing to do with that band) and attract some Westerners interested in Eastern religion, but this portrait of a punk rocker aching to find a spiritual communion between noise and meditation probably won't reach any farther than the festival circuit.
Although rock star Suneohair is a name in music in Japan, he lacks a base of worldwide fans to help Abraxas travel.
Jonen (Suneohair) is in a Buddhist monastery. He has left his wild life as a punk singer behind, and is following the instructions of a venerable teacher. He's also chained to his home by his humorless wife to care for his young son. But Jonen is an anguished soul. He misses punk music - not for the drugs or the groupies - but for the spiritual experience. Abraxas is the story of his tentative journey back.
The screenplay, adapted by Kato and Dai Sako from the novel by Sokyu Genyu, assumes that noise and religious experience are poles apart, a view that's presumably shared by much of the Japanese audience. Somehow the fact that churches in the US have offered everything from hymns to hardcore to hip-hop hasn't reached Tokyo.
We follow Jonen as he decides to launch a comeback in his small town. He overcomes his wife's shock, and covers the streets with posters of a rocker in a monk's robe. Eventually, after neighbors moan about the profane nature of what he's proposing, he plays and screams triumphantly in the monastery's courtyard. The tame performance shows that neighbors had nothing to fear.
Suneohair captures the humility and determination of a young monk determined to find his own religious path, even if it reaches a deafening volume. On the way there, tolerant monks from temple talk eloquently about application of religious thought to everyday life.
Cinematographer Ryuto Kondo works in different palettes that explore the culture of the monastery, the cramped give and take of life with Jonen's wife and son, and the maelstrom of the punk stage. Other production values are subdued, but up to the task.
Abraxasis an appeal for tolerance. It's a commendable goal, even though, by world standards, Kato is late to grasp the overlap between the sacred and the sonic.
Production company/sales: Bitters End Inc., +81-3-3462-0345
Producers: Hiroko Matsuda, Kosuke Oshida
Screenplay: Naoki Kato, Dai Sako, based on the original novel Abraxas no Matsuri by Sokyu Genyu
Cinematography: Ryuto Kondo
Editor: Hitomi Kato
Music: Yoshihide Otomo
Main Cast: Suneohair, Rie Tomosaka, Manami Honjo, Kaoru Kobayashi