Dir: Takashi Miike. Japan. 2012. 135mins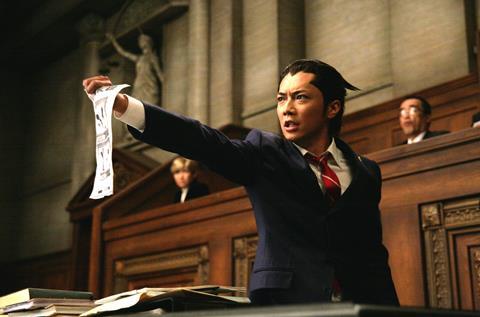 Manga meets video gaming in the colourful, funny and thoroughly entertaining Ace Attorney (Gyakuten Saiban), a fantasy courtroom romp that sees always busy Japanese director Takashi Miike show-off his appreciation for broad movie entertainment, and makes a nice contrast to his more recent heavyweight festival outings such as 13 Assassins and Hara-Kiri: Death Of A Samurai.
The film is glossily staged, with the courtroom set impressive, and highlighted with fine moments of humour.
Of course, Miike has never been one to rest on his laurels (his speedy follow-up to Hara-Kiri was Ninja Kids!!!) and his career has been based on variety rather sticking to one genre. A filmography that includes films a varied as Audition, Ichi The Killer, Zebraman and Sukiyaki Western Django speaks volumes about his interest in keeping things different and flexible.
Ace Attorney is based in the popular Nintendo game (known as Gyakuten Saiban in Japan) set in 2016, in which players take on the role of defense attorney in a futuristic courtroom setting. The subtitled version of the film which premiered at the Rotterdam Film Festival used the English language characters, with young protagonist Phoenix Wright (Hiroki Naramiya) the hero of the film.
In the original Japanese version this character is called Ryuichi Naruhodo, whose last name is a pun on the Japanese phrase for "I See" (thanks Wikipedia for this information), which suits the legal framework. There has already been a manga adaptation of the game and a Japanese live musical version was also performed, using the names from the English-language version of the game.
Clumsy young lawyer Phoenix Wright finds himself caught up in a complex series of court cases which all seem to be linked to a 15 year-old mystery known as the DL-6 case. When his boss Mia Fey (Rei Dan) is killed he is called up to defend her young sister Maya (Mirei Kiritani), and finds himself up against super-cool prosecutor Miles Edgeworth (Takumi Saitoh), who had been a friend at school.
Amazingly he wins the case, but things get even more complicated when Miles is accused of murder, and Phoenix the only one who will defend him. He is assisted by Maya, along with school friend Larry Butz (Akiyoshi Nakao) and plodding detective Dick Gumshoe (Shunsuke Daito), and together they manage to get to the bottom of a complex case that also involves a white parrot called Polly and a giant inflatable Silver Samurai superhero character. He also has to face legendary prosecutor von Karma (Ryo Ishibashi), undefeated in court in 40 years.
The courtroom structure is based on the old Japanese system, and Ace Attorney uses a three-day trial structure which therefore demands much from the defense and prosecution. The hairstyles and outfits of the lead characters are very manga driven (Phoenix is bumbling and has black-spiked hair while Miles is fair, floppy-haired, aristocratic and sports a cravat) and the performance nicely over-the-top and appropriate to the fantasy detective scenario.
The actual courtroom battles are punctuated with the counsel's ability to drag-down vast computer-generated screens to make their legal – or otherwise – points, and Takashi Miike has a lot of fun with his larger-than-life characters as they battle for truth and justice.
The film is glossily staged, with the courtroom set impressive, and highlighted with fine moments of humour, perhaps best of all when the punctured blow-up Silver Samurai is mistaken for a water monster when it collapses into a lake. Running over 130 minutes, the film is a little on the long side for an easily digestible bit of mainstream entertainment, but the characters are fun and accessible and the film thoroughly enjoyable.
Production company/sales: Nippon Television Network Corporation, www.ntv.co.jp
Producer: Okuda Seiji
Screenplay: Takeshi Iida, Sachiko Oguchi, based on the Nintendo game
Cinematography: Masakazu Oka
Editor: Kenji Yamashita
Music: Koji Endo
Main cast: Hiroki Narimiya, Takumi Saitoh, Mirei Kiritani, Akiyoshi Nakao, Shunsuke Daito, Kimiko Yo, Ryo Ishibashi, Rei Dan, Fumiyo Kohinata