Dir: Stu Zicherman. US. 2013. 88mins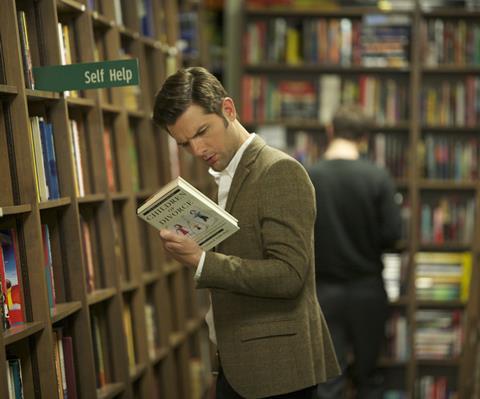 A.C.O.D. brings together a superb comic cast — including Adam Scott, Richard Jenkins, Catherine O'Hara, Amy Poehler, and Jane Lynch — for a film that really ought to be funnier than it is. Aspiring to offer a painfully humorous look at how divorce wreaks havoc on all those concerned (especially the children), the feature directorial debut of Stu Zicherman starts off with great promise before getting derailed by a drab story about a seemingly content thirtysomething who at last comes to terms with his parents' separation.
A.C.O.D.'s smooth establishment of its sharp, funny characters can't sustain the film's momentum.
Premiering at Sundance, A.C.O.D. will be helped commercially by its array of midlevel stars, not to mention the fact that the film's subject matter may resonate with a good percentage of the audience. (The title stands for "adult children of divorce.") Though it doesn't look like a breakout sensation, A.C.O.D. has the potential to be a modest hit among the date-night crowd.
The film introduces us to Carter (Scott), a successful restaurateur whose younger brother Trey (Clark Duke) has just gotten engaged. Carter couldn't be happier, except for the fact that the nuptials will force his mother (O'Hara) and father (Jenkins) to be in the same room, something they haven't done for decades because of how much they despise each other. Carter, confident in his abilities as a peacemaker, brings his parents together to discuss the wedding, but his pleasure over their tentative truce soon erodes when he discovers that it's reignited their passion for one another. They decide to engage in a secret affair, cheating on their new spouses in the process.
The script, by Ben Karlin and Zicherman, begins with an intriguing premise: Carter went to see a therapist named Dr. Judith (Lynch) in his childhood to cope with his parents' divorce, but now in adulthood he discovers that she wasn't actually a therapist but was instead doing research on children of divorce, producing a bestselling book about Carter and other such kids. Dr. Judith wants to do a follow-up book where she tracks her subjects' development, which Carter rejects because he feels that he's a well-adjusted adult who isn't still damaged by his parents' divorce.
Unfortunately, A.C.O.D.'s smooth establishment of its sharp, funny characters can't sustain the film's momentum once Carter's parents begin their affair. Soon, the movie gets bogged down in plot complications: Carter has to deal with his folks' newfound attraction; he needs to make a decision about whether he wants to propose to his long-term girlfriend (Mary Elizabeth Winstead), even though they're both opposed to the institution of marriage; and he also must try to help shepherd Trey's wedding plans. A.C.O.D. has a lot of plot busyness — some of which leads to laughs — but its sequences don't really build or develop. Consequently, Carter's journey gets lost amid the hijinks, depriving the movie of much of an emotional centre.
With that said, Scott is perfectly suited for the role of a confident guy whose growing frustration with everything — his parents' behaviour, Dr. Judith's new book, his doubts about his own relationship — allows the actor to fume in fine, understated fashion. Unfortunately, Jenkins and O'Hara are trapped playing somewhat childish characters who aren't outlandish enough to be truly funny. And the supporting cast, especially Poehler as the blandly obnoxious new wife of Carter's father, are left to their own devices, mere pawns pushed around by the script. Dr. Judith points out that Carter's generation is one that's heavily scarred by its lack of parental oversight thanks to the rise in the divorce rate. In the right hands, that's the stuff of great, biting comedy, which is why it's a shame that A.C.O.D. proves to be as dysfunctional as its central family.
Production companies: Black Bear Pictures, Superego Industries, Process Media
International sales: WME, www.wma.com
Producers: Teddy Schwarzman, Ben Karlin, Tim Perell
Executive producers: Adam Scott, George Paaswell
Screenplay: Ben Karlin and Stuart Zicherman
Cinematography: John Bailey
Production designer: John Paino
Editor: Jeffrey Wolf
Music: Nick Urata
Main cast: Adam Scott, Richard Jenkins, Catherine O'Hara, Amy Poehler, Mary Elizabeth Winstead, Clark Duke, Ken Howard, Jessica Alba, Jane Lynch