Dir: Mike "Mouse" McCoy and Scott Waugh. US. 2012. 101mins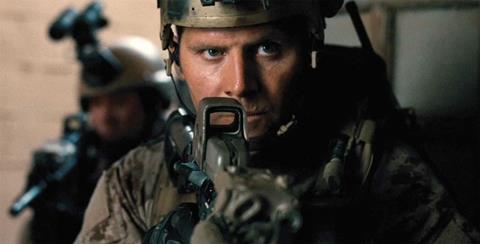 The long history of cooperation by the United States military with Hollywood productions lionising their professionalism and technological/weaponry superiority reaches new heights in Act Of Valor, a movie being marketed chiefly via its hook of using real, active-duty American special forces personnel.
Act Of Valor has a certain swagger, and reflects well on its subjects.
The relative strengths and weaknesses one might attach to such a tack are in abundant supply throughout. If the word propaganda strikes some as too punitive or uncomfortable a description, then the dramatically inert but generally well captured film, in its unerring, square-jawed patriotism and tidy action-oriented conflict resolution, is certainly the most expensive and exclusively sourced military recruitment video to date.
Act Of Valor got its start as a work explicitly designed to drum up human resources — a narrative built around real-life training exercises showcasing the Navy SEALs' unique ability to reach targets by sea, air or land, per their acronym.
But Relativity Media, which paid a handsome sum for distribution rights in the wake of the SEAL Team Six elimination of Osama bin Laden last year, is surely hoping to capitalise on a rekindled public fascination with elite armed force prowess. And in that sense this otherwise intellectually slim action movie's prospects look promising, especially in middle America, where gung-ho turnout will power robust eight-figure domestic box office and holdover ancillary value that will more than offset the film's dubious international appeal.
The story follows the Costa Rican extraction of a kidnapped CIA agent (Roselyn Sanchez, one of the film's few professional actors), which yields a treasure trove of intelligence related to an imminent attack against the American homeland. Following that, the Navy SEALs of Bandito Platoon find their missions extended in the service of unwinding a terrorist plot that stretches from Chechnya and the Ukraine to Somalia and Mexico, and involves the smuggling of sixteen Filipino suicide bombers across the United States' southern border via an underground tunnel.
Act Of Valor connects best as a showcase for the precision of its players and the instruments they deploy. Its vernacular is crisp and clipped (operational deployment is going "downrange"), and various details of its standard action plot ring true (to save time and gain cover, bad guys cut up carpet and quickly roll up a victim).
The action, too, while not always set up and framed in the most conventional strokes, is certainly the movie's chief selling point; when a rendezvous gone awry turns into a "wet" meet-up, wherein the SEALs plunge a Jeep at full speed into a river and their support team lights up trailing bad guys, it's an undeniable moment of sheer macho exhilaration.
But what makes portions of the movie seem authentic also factors into a certain emotional disconnection. Given that its stars are not actors, the performances are most charitably described as wooden. Scripter Kurt Johnstad's blundering voiceover narration certainly doesn't help matters either, and the movie's interest in its villains is queasily perfunctory, which is perhaps why its international patchwork feels so risible.
Documentary/commercial directors Mike "Mouse" McCoy and Scott Waugh aim to craft an at least partially subjective experience, peppering their film with Doom-style, first-person-shooter point-of-view. Given the inconsistency of its application, however, it doesn't always match up with footage that is otherwise capably captured by cinematographer Shane Hurlbut.
Act Of Valor has a certain swagger, and reflects well on its subjects. Less reassuring, however, is some of the machismo the film casually extols and peddles in its narration — including that the ability to scare is a prized badge of honor, and one of the marks of a true man.
Production company: Bandito Brothers
Domestic distribution: Relativity Media
Producers: Mike "Mouse" McCoy, Scott Waugh
Executive producers: Jason Clark, Max Leitman, Michael Mailis, Jay Pollak, Lance Sloan, Benjamin Statler, Thomas Tull
Co-producer: Duncan Smith
Screenplay: Kurt Johnstad
Cinematography: Shane Hurlbut
Editors: Siobhan Prior, Michael Tronick, Scott Waugh
Production designer: John Zachary
Music: Nathan Furst
Website: www.ActOfValor.com
Main cast: Navy SEALs, Roselyn Sanchez, Alex Veadov, Jason Cottle, Nestor Serrano, Dimiter Marinov