With her first production Infiltrator in the bag, Good Films producer Miriam Segal has ambitious plans for her slate in 2016.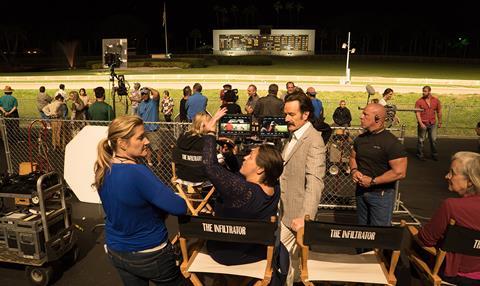 Over the summer, Miriam Segal, founder and lead producer of Good Films, made the move she had been resisting. She relocated full time from London to Los Angeles. Now the deed is done, the UK producer couldn't be happier.
"I just came back to London to grey skies and rain, and I e-mailed Brad [Furman, director of Infiltrator, formerly The Infiltrator] and said, 'Now I know how you must have felt when you came here last November,'" she laughs. "LA is where the business is and it means I can have a normal life outside of office hours, rather than being on the phone to LA every night until two in the morning."
Once Good Films has locked and delivered the final cut on Infiltrator, most of Segal's London-based team will also relocate, leaving behind one or two people to manage physical production for any Europe-based shoots.
"It's making life so much easier," says Segal of the move. "I don't think it will make the films happen any quicker but it's less frustrating. You're able to react immediately.
"We will still make films in the UK and Europe but our ambitions are more in line with American independent cinema than European cinema," she adds.
"We are making English-language projects that are accessible but also intelligent and discerning. I see Infiltrator as 'a movie' rather than a film."
Segal founded Good Films in 2007, in part with private investment secured through an Enterprise Investment Scheme, and Infiltrator is her company's first completed production.
Initial plans to shoot the film in the US were scrapped when they could not attach an actor who could justify the proposed $50m budget. So Segal switched track, set the project up in the UK (where she gained the advantage of the UK tax credit) and is delighted they managed to land Bryan Cranston as the lead.
"He really is amazing in the film," she says.
The happy middle
Directed by Brad Furman (The Lincoln Lawyer), the now $28m film is based on the autobiography of Robert Mazur - a US customs official who discovered a money-laundering scheme involving drug lord Pablo Escobar.
The project sits in the mid-budget range market that has been largely abandoned by the studios, leaving space for companies such as Good Films to move in. It was co-financed by Bank Leumi, Good Films and LipSync.
"It's not about control, it's more about management and aspirations," says Segal of operating in the mid-range sphere. "It's about the kind of films you want to make. Audiences want to be challenged and engaged; that's why television is so successful again. If you remain independent, you can protect from that almost knee-jerk instinct to play safe."
Broad Green Pictures acquired US rights to Infiltrator off the back of a promo at Cannes for a reported $4m and are planning a 2016 theatrical release.
WME Global brokered the deal, and at the time Relativity International were handling other sales. Sierra/Affinity has since come on board to take over Good Films' slate, although Relativity International president Camela Galano is staying involved as a consultant. "Nick Meyer and Sierra were very open to that," says Segal.
Because of Broad Green's wide release plans for Infiltrator, including further test screenings, a big buyer push at AFM has been postponed until Berlin.
For the rest of the Good Films' slate, they are out to cast on crime drama LAbyrinth, about the murders of Tupac Shakur and Notorious B.I.G., which will shoot in Los Angeles and Las Vegas this spring.
There is also Invisible, a London-set drama about immigrants directed by Danis Tanovic, which is out to cast; Infiltrator screenwriter Ellen Brown Furman's all-female comedy drama No Comment, which Segal describes as "Fried Green Tomatoes meets The Big Chill"; and The Postcard Killings, from author James Patterson and Liza Marklund, a project that is being scaled up in commercial ambition after interest from buyers, with Good Films looking to attach a high-profile film-maker who can attract cast.
Segal's ambition is to get at least three of her projects into production next year. "Infiltrator is a signpost to people that we can do it - we can support film-makers and we won't just put any bit of casting together to get a film made, and we can put proper money behind it," says Segal. "In a system that's become so polarised, it's quite nice to have that middle ground."