Participant CEO David Linde among those to address challenges during AFM finance conference.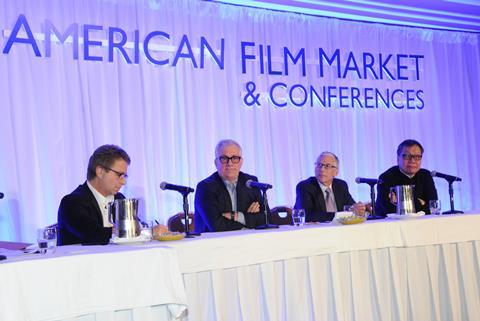 Despite a bevy of indie packages announced during the AFM, a healthy pool of P&A sources, the flurry of nimble new US distributors and the China boom, there remains a sense of anxiety in the halls of the Loews.
Beyond an obvious lack of brawny action titles and the acknowledgment that market moaning is a common phenomenon, the challenges are myriad.
It starts with changing viewing habits, which in part accounts for the drain of money, talent and crew to TV, but also encompasses the proliferation of sales companies and studios swooping on high-profile indie packages.
Speaking at an AFM conference yesterday, industry lynchpins including former Universal Pictures chairman David Linde and East West Bank head of corporate banking Bennett C Pozil addressed the challenges.
"The elephant in the room is windows," said Linde, the newly minted Participant Media CEO.
"In the west we remain constricted by windows. The reality is that the film business needs to more aggressively accommodate what the audience is asking. We do it in little ways. But the economics are off. Until the primary distributors, suppliers and theatre owners come up with a way to accommodate each other we're going to have a problem."
Going forward producers and financiers must adjust expectations and embrace alternative platforms, said Linde.
"Where does your film have its best opportunity? People are struggling with those decisions right now because the market is a little off balance compared to ten years ago. It requires focus on where your movie really lives."
"We live in an age when you have to be immensely precise. In my opinion it's ok if your movie ends up theatrical and online at the same time."
"The growth in the number of TV productions has been astronomical," admitted senior media advisor Roy A. Salter of FTI Consulting.
"TV productions on US networks have doubled in the last three years."
However, both Linde and Salter predicted a near-future dip in the TV boom.
"I happen to think that the TV side will wane a bit and the film sector will come back in about two and half years," predicted Salter, a timeline seconded by Linde.
Pozil also envisaged a decline: "What I'm seeing is that there are so many channels out there that eventually as the economics change that will fall off and thin out."
"As a bank we have built a division that is putting huge resource behind non-traditional content: micro-content, user-generated content, virtual and augmented reality, which is more important for younger generations."
Also on the panel was Bona Film Group COO Jeffrey Chan, whose Chinese distribution giant was in the headlines this week for investing $235m in a slate of theatrical Fox titles, a deal facilitated by East West.
Chan revealed that the deal was pushed through in double quick time in order to be in place before The Martian's China release date.
Chan admitted that the early stages of the deal were akin to "fitting a big square into a small circle."
However, the Bona exec predicted that the deal was a sign of things to come for China, whose population has "huge aspirations to be a global citizen."
Salter predicted the $235m China deal was just "the beginning" for China-US tie-ups: "Everything we're seeing so far is a warm-up."