Dir/scr: Jill Soloway. US. 2012. 102mins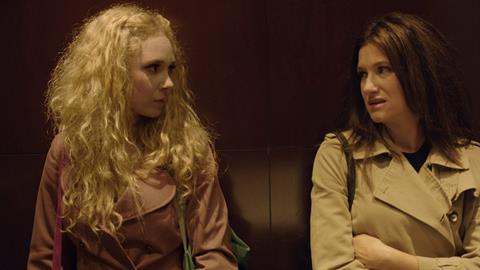 Afternoon Delight was a song that you tried to get out of your head. Afternoon Delight the film, about good intentions gone awry, is more motivational therapy than cinema. Jill Soloway's debut feature about a bored housewife (Kathryn Hahn) who befriends a young stripper (Juno Temple) seems destined for a women's cable channel.
As McKenna, Juno Temple is the best thing this well-meaning film offers.
The film's story of reaching into a world beyond privilege and its toll on a conventional marriage is readymade for an Oprah-style promotional tv chat. With a Jewish protagonist and its setting among Jewish women, Afternoon Delight could also travel on the Jewish film festival circuit. International interest beyond cable and festivals will be minimal.
The film begins when Rachel (Hahn), bored with a husband, child and luxurious house, decides that a visit to a strip club could liven her and her husband's humdrum relationship. There she meets McKenna (Temple), and experiences a stirring lap dance. Rachel, determined to help the cash-strapped McKenna, invites her home, and hires her as a nanny. The two learn from each other, but contact with Rachel's friends show how far apart the two women's worlds are, threatening Rachel's marriage.
Sampling forbidden trades, and sheltering criminals and the homeless have long been the stuff of cinematic fables. In My Man Godfrey (1936), a tramp that a headstrong socialite brings home from a trash heap teaches lessons to a bored rich Manhattan family during the Depression. That was classic screwball comedy. Even with much raunchy talk of sex or the lack of it among Rachel's friends at a local Jewish community center, Afternoon Delight tends toward earnest sincerity. The closest it gets to satire is in sessions with Rachel's condescending therapist (Jane Lynch), who talks endlessly about her lesbian lover.
Kathryn Hahn, well-cast as a plain thirty-something mired in family and charity, is believable as a woman who wants a way out. Rachel is unworldly enough to ask, "what's a sex worker?" and shocked when she finds out. Josh Radnor (How I Met Your Mother) is also credible as the husband who can't believe it's all happening.
As McKenna, Juno Temple is the best thing this well-meaning film offers. Even with rich regular sex clients, she's charmingly innocent about the ways of the comfortable, until her professional instincts take hold in the wrong setting.
Afternoon Delight has a raw energy when Soloway and cinematographer Jim Frohna film in a strip club, suggesting an admiration for John Cassavetes and a tactile break from everyday sterility. Yet most of the drama feels like television, where Soloway worked before making the film. Production values are adequate throughout.
The film has a firm focus on the deadening rhythms of an existence that's enviable from a distance, and still doesn't look so bad when you get closer. Boring as this film makes that life out to be, it probably won't bring house prices down.
Production company: 72 Productions
International sales: United Talent Agency, www.unitedtalent.com
Producers: Jen Chaiken, Sebastian Dungan
Executive producers: Julie Parker Benello, Allen Benello, James Burke, Chris Miller, Chris Kuenne, Rick Rosenthal, Nick Morton
Cinematography: Jim Frohna
Editor: Catherine Haight
Music: Craig Wedren
Principal cast: Kathryn Hahn, Juno Temple, Josh Radnor, Jane Lynch