Dir: Feng Xiaogang. China. 2010. 128mins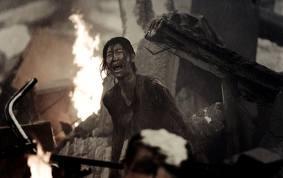 China's all time box-office champion after its first 18 days in release, confirms Feng Xiaodeng's position as his country's top commercial filmmaker, adept not only at making successful comedies but equally comfortable with sprawling, disaster-generated melodramas.
Feng Xiaogang cleverly stays away from controversies of any kind, instills solid values that no one would dare criticise.
His Titanic-oriented blockbuster was shown in Toronto on a regular screen, which most probably couldn't do full justice to its opening 20 minute sequence recreation of the catastrophic 1976 Tangshan earthquake which killed at least 240,000 of the city's inhabitants (some reports put the figure much higher), originally shot and exhibited at home on IMAX screens.
Extolling old-fashioned family values and using China's fast-growing economy as a backdrop, the sprawling plot, covering no less than 32 years and requiring yet another major earthquake, in 2008, before reaching its happy-ending, this cannot fail to become a natural favorite, not only with home audiences but also with Chinese communities all over the world.
Fang Qiang (Zhang Guogiang) is a happy truck driver with a loving wife Li Yuanni (Xu Fan) and two lively twins, a boy and a girl, until the fateful night when the parents go down for a stroll and end in the back of Fang's truck making love while the kids are left sleeping in the flat.
All of a sudden, the entire city goes up in flames and crumbles into ruins, in a spectacular CGI sequence, not quite on par with latest Hollywood effects, but still serviceable enough to make the audience shake in its boots. When the earth settles down again, the father lies dead, the two kids are under a slab of cement and the despondent mother faces a Sophie's Choice type of dilemma. Only one of the twins can be saved, it is up to her to decide which one. She finally whispers "the boy", gives up the girl for dead, and from that point on the plot splits in two.
On one side, there is the mother, ever grieving for the terrible thing she had to do, who dedicates her entire existence to her son Fang Da who lost an arm in the earthquake and grows up to be a lively, independent but not particularly studious adolescent.
On the other side, the daughter Fang Deng who wakes up next to her father's body, walks away miraculously unharmed, with no immediate memory (or so she claims, though her mother's choice will forever ring in her ears) hardly speaks and is finally adopted by a couple (Chen Daoming and Chen Ji) who prove to be devoted foster parents, despite her initial almost autistic responses.
As the plot jumps easily over the years, first to 1986, then to 1995 and finally to the 2008 earthquake, Fang Da (now played by Chen Li) turns into a successful travel agent, drives a BMW, marries, has a son whom he often entrusts to his mother's care, despite his wife's tearful protests. Meanwhile Fang Deng (Zhang Jingchu), brilliant at school, studies medicine, gets pregnant, refuses to abort, becomes a single mother and teaches English, finally marries a Canadian and moves to Vancouver.
Li Yuanni, fearing the spirit of her lost ones will not find her when they return, refuses to move from her modest abode, becomes a seamstress forever marked by the traumatic experience she went through. Finally re-united by another miracle on the ruins of another earthquake, they all fall into each other's arms, shedding tears of both sorrow and happiness.
Shot by one of China's greatest cinematographers, Lu Yue (Red Cliff, The Shanghai Triads), the images here are never less than breathtaking. Needless to say a lot has been invested in the artwork - from the more minute to the largest scale sets and all other technical credits are impeccable.
Feng Xiaogang cleverly stays away from controversies of any kind, instills solid values that no one would dare criticise and smoothly shifts from one period to another, leading a dedicated cast that in all honesty, are not overly stretched by their parts. It is still worth singling out the strong-minded performance of Zhang Jingchu as a determined young woman who will not let herself be swayed from her convictions; Chen Daoming, as her adoptive father, doting and worried, and Xu Fan (he director's wife) in the lead role of this sage, as the mother whose entire life is an atonement for that fateful moment when she sacrificed one child for the life of the other.
Production company: Huayi Brothers Media Corp.
Executive producers: Wang Zhonglei, Chen Kufu
Producers: Wang Zhangjun, Gio Yanhong, Han Samping
International sales: Huayi Bros. Media Corp.
Screenplay: Su Xiaowei
Cinematography: Lu Yue
Production design: Huo Tingxiao
Editing: Xiao Yang
Music: Wang Liguang
Main cast: Xu Fan, Zhang Jingchu, Li Chen, Chen Daoming, Chen Jin, Guogiang Zhang