Dir: Ann Hui. Hong Kong-China.2010. 105mins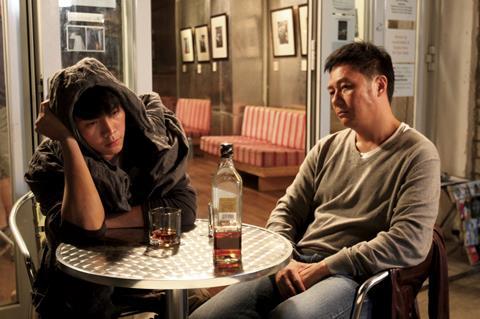 The same story, taking place anywhere in the West, wouldn't raise an eyebrow, but gender benders are still pretty much of a taboo in the Hong Kong cinema, far more tolerant of violence than it is of sex. This makes Ann Hui's new film about the affair between two pregnant lesbian women something of a novelty, at least on the home front.
There's plenty of running around, fast cutting and flattering cinematography, and the stars here have nothing to complain as far as their image is concerned.
But barely supported by a hollow script which desperately tries to justify its 105 minutes running time, Hui's latest seems destined mainly for the local market, which may appreciate Sandra Ng and Vivian Chow (coming back to the screen after a 14 year absence) putting on a cute act and strike photogenic poses all throughout.
Macy (Ng), a lawyer with a small clientele but a free spirit and Anita (Chow) a bank employee with a weakness for one-night stands, are both bi-sexual. Macy who has been on and off women through the years, takes on the case of her next-door neighbor, Robert (Eddie Cheung), accused of having beaten his wife. Instead busying herself with his legal status, she teaches him French kissing and the secret of sharing orgasms with his partners.
Anita picks up Mike (William Chan) on the internet, but is disappointed to find that in bed he is "long on talk but short on play" and discovers after the fact that he is barely 19. The two women, who had an affair 12 years ago, meet again in counseling course for pregnant women, embrace, tell each other their personal stories in long flashbacks and finally flop into bed together, still debating whether they should have the babies or terminate their pregnancies.
From this point on, it's a long journey riddled with clichés, bringing in the two prospecting fathers who can't quite figure out their roles and a couple of committed, militant lesbians, Macy hesitates to commit herself to the long term relationship Anita is looking for, while Anita has to deal with her employers who are trying to kick her out when they find out she is about to become a single mother.
Robert, who has learned by now how to please women and has appeased his wife's fury, forgets about everything and worries only about his illegitimate son about to be born, while Mike assiduously tries to stay close to Anita, despite her desperate efforts to push him away.
There's plenty of running around, fast cutting and flattering cinematography, and the stars here have nothing to complain as far as their image is concerned. Feminist slogans are half-jokingly flashed all over the place, in an ironical rather than militant fashion, the camera coyly looks the other way every time something more shocking than a kiss is supposed to take place, and the final solution proposed by the script – having a family of six, four women and two men, taking care of two babies, is like saying "since we can't decide how to wrap it all up, let's postpone the answer for the next Time".
Always colorful but rarely funny and throwing bits and pieces picked elsewhere (a short sequence of four girls discussing affairs plays like a HK version of Sex And The City), this is a far cry from Ann Hui at her best.
Production companies: Class Limited Productions
International sales: Mega-Vision Pictures Limited
Executive Producer: Wong Jing
Producer: Ann Hui
Screenplay: Yeeshan Yang
Cinematography: Charlie Lam
Production designer: Albert Poon
Editors: Eric Kong Chi Leung, Chan Chi Wai
Music: Anthony Chue
Main Cast: Sandra Ng, Vivian Chow, Eddie Cheung, William Chan, Joey Meng, Jo Koo