Dir: Alexander Mirecki. US. 2013. 84mins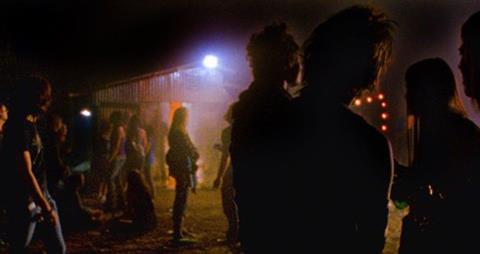 A freewheeling and rather scattershot indie film that follows a disparate group of characters all attending a concert in the woods, Alexander Mirecki's bold but at times rather flailing film is punctuated by intriguing moments but will ultimately be simply too niche to feature anywhere other than left-field film festivals.
The highpoint of the film is Zoran Popovic's Super 16mm cinematography.
As a mixed and occasionally enthusiastic band of music lovers – a dazed and confused group to say the least – gather for a night of indie and alternate music (the film features four bands, Manicorn, Nice Face, Night Control, Pedestrian Deposit), the scene is set for debates on relationships, friendships, hook-ups and bust-ups and even – in one of the few moments of actual drama – a burst of sword-wielding action.
All Together Now may find a niche online home with fans of the music and the indie concert scene, but other prospects seem minimal. The film had its world premiere at the Los Angeless Film Festival.
Lou Taylor Pucci (Thumbsucker, Girls) stars as Ronnie O, the guy who organises this more modest Burning Man style event, and while a handful of bands perform in a flimsy looking shack a scattered group of folk – young, old, friends and would-be lovers – interact. There is a sense that the nighttime forest has feeling of being a magical place, but the conversations are often mundane and the film never cracks the notion that something fantastic happens during this night in the woods.
The highpoint of the film is Zoran Popovic's Super 16mm cinematography which blends grainy nighttime shots with elegant images in amidst the occasional soft glows of firelight or nearby buildings.
Some of the characters are more interesting than others, but they are visited relatively fleetingly, and while there are some engaging and impressively wacked moments, the sum total of All Together Now is of a film that was likely fun to make but can't quite realise its ambitions.
Contact: alltogethernowfilm@gmail.com
Producers: Leah Fong, Michael Younesi
Executive producer: Daniel Dubiecki
Screenplay: Alexander Mirecki, Ryan Kasmiskie
Cinematography: Zoran Popovic
Editor: Gal Muggia
Music: Manicorn, Nice Face, Night Control, Pedestrian Deposit
Website: www.alltogethernowfilm.com
Main cast: Lou Taylor Pucci, James Duval, Stella Maeve, Nora Kirkpatrick, James Burns, Amanda Kimmel, Lindsey Garrett, Ryan Heinke, Jerry Phillips, Hannah Sullivan, Dalton O'Dell, Morgan Krantz, Monika Jolly, Luke Stratte-McClure, Azim Rizk, Hal Dion, Sam Carson, Tucker Bryan, Martin Yribarren, William Horwich, Will Watkins