Dir: Tomas Lunak. Czech Republic. 2011. 84mins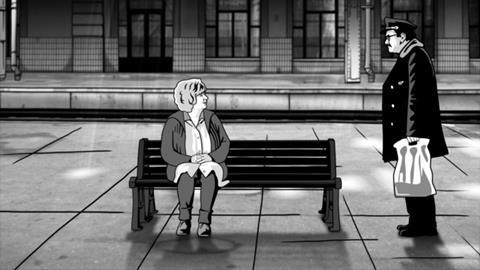 Four years in the making, this stylish Czech animation uses the rotoscoping technique (as used in Waking Life and A Scanner Darkly) to bring to life a bestselling trilogy of graphic novels by Jaroslav Rudis and Jaromir99 about a lonely stationmaster burdened by the dark past of the Jesenik mountain district where he lives and works – an area once known as the Sudetenland.
The immensely stylish black and white animation mixes influences from American film noir and fifties pulp comics to socialist realism and silhouette puppetry.
A resolutely grown-up full-length feature animation, 'shot' in black and white, Alois Nebel oozes Middle European mystery and malaise. Interleaving a shadowy revenge plot with a touching tale of middle-aged love, the film is a more sombre affair than the last adult European animated film to achieve widespread arthouse theatrical distribution – Sylvain Chomet's The Illusionist. But it's strong enough to follow in Chomet's tracks, in similar urban arthouse markets, and its auxiliary prospects will be boosted by animation fanboys curious to catch a title that can compete with the best Japanese anime features.
Although the action begins against the background of the fall of the Berlin Wall in 1989 and continues into Vaclav Havel's thirteen-year presidency, history, in Alois Nebel's world, is something that happens elsewhere. Nebel (Krobok) is a stationmaster at Billy Potok, a gloomy village in the Jesenik mountains.
He's a taciturn and lugubrious loner, seemingly well into his fifties, who is doggedly dedicated to his job; he even reads railway timetables in his spare time (we hear him intoning station names and train times in voiceover as a train looms out of the darkness – just one of the ways in which the film engineers anxiety and foreboding). Repeated flashbacks return to a dramatic scene that, it becomes clear, took place at the station at the end of the war during the expulsion of ethnic Sudeten Germans, who were hated by many Czechs as traitors.
We soon guess that a wild and desperate figure called The Mute (Roden) – who, unusually, escaped into Communist Czechoslovakia from Germany at the beginning of the film – is looking for revenge for something that happened back then. He is caught and sent to an asylum where Nebel, confused and crushed by the weight of the past, has also ended up.
A cabal of locals, including Nebel's scuzzy black-marketeering colleague Wachek (Noha) and his sinister father Old Wachek (Svehlik), torture The Mute with electro-shock therapy, but he stays true to his name, and eventually escapes. Nebel recovers only to find that Wachek has been given his job – so he heads off to the central station in Prague to find out how and where the state railways plan to use him. Here he takes up with a netherworld of station hangers-on who are looked after by stern but kind toilet custodian Kveta (Ludvikova).
Czech animation can boast a glorious tradition, having hatched masters of the stature of Jiri Trnka and Jan Svankmajer. But though director Lunak's early shorts show him to be an heir of this school, the rotoscoping technique used here places Alois Nebel outside the main Czech line – except in the caustic other-worldliness and edge of darkness of the universe it creates. Perhaps this is just as well, as it's a line that in recent years seems to have reached a dead end.
It's difficult to know how much credit to assign to the live action performances that were subsequently 'rotoscoped' – but Alois and Kveta in particular are fascinating characters who hold our attention throughout, and the twilight romance that springs up between them is all the more touching for being delicately underplayed.
The immensely stylish black and white animation, designed by the illustrator of the original graphic novels, Jaromir99, mixes influences from American film noir and fifties pulp comics to socialist realism and silhouette puppetry. And the moody soundtrack by Petr Kruzik of Czech post-Gothic band Priessnitz lends a hand too, placing the story firmly in dark fable territory.
Production companies: Negativ Film Productions
Co-production: Pallas Film, Tobogang, Ceska televise, UPP, Soundsquare
International sales: The Match Factory, www.the-match-factory.com
Producer: Pavel Strnad
Screenplay: Jaroslav Rudis, Jaromir99, based on their graphic novel Alois Nebel
Cinematography: Jan Baset Stritezsky
Editor: Petr Riha
Production designer: Henrich Boraros
Music: Petr Kruzik
Website: www.aloisnebel.cz
Main cast: Miroslav Krobot, Marie Ludvikova, Karel Roden, Leos Noha, Alois Svehlik, Tereza Voriskova