Dirs: Jen and Sylvia Soska. US-Canada. 2012. 100mins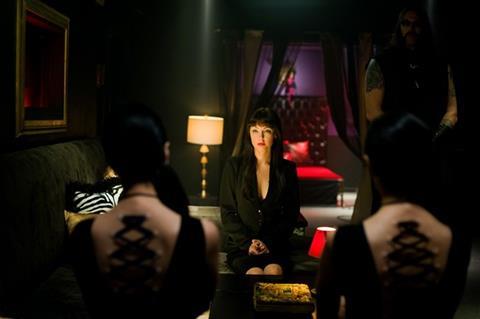 A vast step forward from the Soska twins' 2009 feature debut Dead Hooker In A Trunk, this retains the energy and perversity of that shaggy dog story but with far more tact, control and intelligence. Built around a showcase performance from Katharine Isabelle (who impressed a decade ago in Ginger Snaps), American Mary is an entry in the horror-of-plastic surgery sub-genre of Georges Franju's Eyes Without A Face and Jesus Franco's The Awful Dr Orloff, rooted in the recent, real, fascinating phenomenon of body modification.
Already the Soska Twins are the most interesting sibling movie collaborators since the Coen Brothers; this will serve to attract major interest in future projects.
When a poseur says he's thinking about getting 'tribal scarring and some piercings', he's thrown out of Dr Mary's waiting room. This is a world of more extreme, stylised and singular voluntary mutations, which start with tongue bisections and cosmetic amputations and work up to whole body make-overs at once beautiful and grotesque.
Mary Mason (Isabelle), a financially-struggling surgical intern who practices sutures at home on uncooked chickens, goes for a job interview with Billy Barker (Antonio Cupo), a lowlife club-owner looking to hire a masseuse. A sudden crisis prompts Billy to pay Mary some fast cash for off-the-books surgery performed on a business associate injured during a harsh interrogation.
This leads to Mary's apartment being invaded by Beatress (Tristan Risk, in a bizarre but remarkable performance), an exotic dancer in the club who has had herself altered to look like Betty Boop. She asks Mary to consider helping Ruby RealGirl (Paula Lindberg), who has been turned down by other surgeons and wants to extend her doll-look to the crotch area.
Though unsure, Mary goes ahead with the procedure. In a sub-plot which is cannily integrated with the heroine's journey, Mary's trust in a lecturer (David Lovgren) is hideously abused, prompting her to drop out of school and continue lucrative work as a body modifier alongside a career as a surgical torturer/vigilante which takes her into psychological states as extreme as the physical ones desired by her more willing customers.
Jen and Sylvia Soska, who cameo as peculiar matched degenerates, who have previously worked in a retro grindhouse style, adopt an icier, more detached manner. Though full of shocking concepts and sights, American Mary is restrained in what it shows, confident that the horrors it implies will sink in. Isabelle, in fetishist black surgeon's gloves, is a striking presence, conveying Mary's growing insanity with a slit smile and scary presence.
One of the strongest moments in the film comes from the protagonist's realisation that the tough crooks who hang about Billy's club are terrified of her, though a hulking bouncer (Twan Holliday) has one great speech about a personal experience which makes him wish he'd known her earlier. A film with enigmas (why is it important that Mary be American?), unconventional character developments (Cupo and Lovgren both have interesting roles which take unexpected turns) and genuinely fresh material, this needs careful positioning between cult horror and arthouse transgression but ought to become a late-night staple.
Already the Soska Twins are the most interesting sibling movie collaborators since the Coen Brothers; this will serve to attract major interest in future projects. If this were a more conventional indie drama, it would also boost Isabelle's prospects the way Winter's Bone and Martha Marcy Mae Marlene boosted Jennifer Lawrence and Elizabeth Olson; even in its twilight zone, it should get her away from gigs like being a one-scene victim in a direct-to-DVD 30 Days of Night sequel.
Production companies: American Mary Productions Inc., IndustryWorks Pictures, Twisted Twins Productions
International sales: IndustryWorks Pictures, http://industry-works.com/american-mary-movie.html
Producers: Evan Tylor, John Curtis
Executive producers: Riaz Tyab, Angela Towle, Tom Raycove, Kathryn Griffiths
Screenplay: Jen and Sylvia Soska.
Cinematography: Brian Pearson
Editor: Bruce Mackinnon
Production designer: Tony Devenyi
Music: Peter Allen
Main cast: Katharine Isabelle, Antonio Cupo, Tristan Risk, John Emmet Tracy, David Lovgren, Twan Holliday, Paula Lindberg, Jen Soska, Sylvia Soska