Dirs: Jon Hurwitz & Hayden Schlossberg. US. 2012. 112mins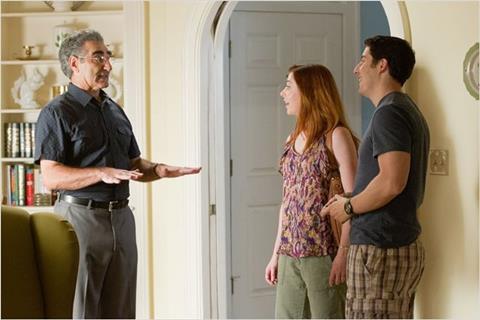 In 1999, a low-budget teen comedy put a wicked, winning spin on tried-and-true formula — a group of high school guys make a pact to try to lose their virginity — and led a successful takeover of the waning-millennium American zeitgeist. Many other movies, from Superbad to, most recently, Project X, have taken up the mantle of American Pie's party-hearty, pull-no-punches hormonal comedy, but the original game-changers return in American Reunion, an adequate if not especially memorable sequel eight years removed from the last installment. More middling than ineffective — laughs are intermittent but the tone is lively throughout — the film is a reminder that there is a time and season for all things, and some relationships are not meant to last.
A liberally endowed soundtrack budget gives American Reunion emotive punching power in most of the right spots.
Each of the franchise's previous three installments have made over $230 million apiece worldwide, and additionally proven a potent international player — rare universal translation for a comedy, in particular a series. Box office returns, especially domestically, should be down for this particular slice of reminiscence, but ancillary value will more than likely make up the difference, with now-thirtysomething franchise fans wanting to check in and see what the American crew has been up to.
A high school reunion brings the old gang home to Michigan, including world traveler Finch (Eddie Kaye Thomas). While young parents Jim (Jason Biggs) and Michelle (Alyson Hannigan) are experiencing shared sexual frustration born of a marital rut, Kevin (Thomas Ian Nichols) and Oz (Chris Klein) entertain reconnections with ex-flames Vicky (Tara Reid) and Heather (Mena Suvari), respectively. Stuck in a demeaning temp job, meanwhile, undeterred horndog Stifler (Seann William Scott) sees this weekend as his chance to reconnect with "the mouth that got away."
Complications and temptation arise in the form of a group of punkish teenagers, and Kara (Ali Cobrin), a now nubile and randy 17-year-old whom Jim used to babysit. Jim also encourages his widowed dad (Eugene Levy) to try to start dating, which leads to an encounter with Stifler's mom (Jennifer Coolidge).
Co-writer-directors Jon Hurwitz and Hayden Schlossberg, who penned the pot-infused Harold & Kumar comedies and co-directed the last two, apply a thick glaze of nostalgia to their film. (In an interesting and not altogether unwelcome sign of maturity, the movie skips past a night of drunken debauchery to focus more on albeit equally outrageous, pants-less and otherwise guilt-ridden after-effects of said evening.) American Reunion isn't totally canonical with respect to the franchise's various straight-to-video spin-offs, but it does invest a lot of time and energy in establishing call-backs to its main ancestor. Too much, perhaps.
The sentiments (wistful and naughty) are conflicting, but not in a manner that's unfixable. Rather, it's the focus that is a bit off. Some of these tangential bits are handled with aplomb (Natasha Lyonne's breezy cameo), but certain scenes drag; Jim's tutorial on online dating for his dad feels like an opportunity missed, while the potentially rekindled romantic subplots with Vicky and Heather are complete non-starters.
Others ideas (including a brief appearance by Shannon Elizabeth) come across as entirely unnecessary filler. The main feeling which emerges is that of a story simply trying to serve too many masters.
As Stifler, the franchise's unhinged id, Scott again wrings the most laughs from a reliably crude and almost pathological self-centeredness. Klein nicely embodies the slickness of a small town kid who has made good and achieved demi-celebrity, trading on his career as a sportscaster and appearing on a popular dance show. Levy, of course, slyly steals scenes as Jim's amiable, untrendy father.
Technical credits are decent, though Hurwitz and Schlossberg frame all the action in a very staid, boxy fashion that fumbles away some chances for widescreen ensemble humor. A liberally endowed soundtrack budget, though (including the return of the series' putative theme song, James' "Laid"), gives American Reunion emotive punching power in most of the right spots.
Production companies: Relativity Media
Domestic distribution: Universal Pictures
Producers: Craig Perry, Chris Moore, Warren Zide, Adam Herz
Executive producers: Louis G. Friedman, Paul Weitz, Chris Weitz, Jason Biggs, Seann William Scott
Written by: Jon Hurwitz & Hayden Schlossberg, based on characters created by Adam Herz
Cinematography: Daryn Okada
Editor: Jeff Betancourt
Production designer: William Arnold
Music: Lyle Workman
Website: www.AmericanReunionMovie.com
Featuring: Jason Biggs, Seann William Scott, Chris Klein, Alyson Hannigan, Eugene Levy, Jennifer Coolidge, Thomas Ian Nicholas, Eddie Kaye Thomas, Ali Cobrin, Tara Reid, Mena Suvari, John Cho, Natasha Lyonne, Dania Ramirez, Jay Harrington, Katrina Bowden, Chuck Hittinger, Chris Owen, Shannon Elizabeth, Rebecca De Mornay