Dir. Cherien Dabis, US/Canada/Kuwait, 2009, 97mins.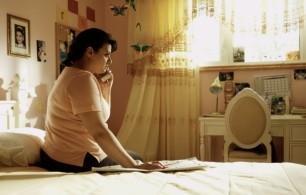 A Palestinian mother and son clash head-on with the American heartland in this tender and droll feature debut from Arab-American director Cherien Dabis. Amreeka's very human treatment of the immigrant experience could play well on the US art circuit, and it's warm Oprah-ready message of acceptance may also find a strong educational market. Amreeka should get significant exposure throughout the Middle East.
America - or Amreeka - is the golden land for Muna Farah (Nisreen Faour), as she and her restless teenage son, Fahti (Melkar Muallem) endure checkpoints in and out of the West Bank. They also can't avoid Muna's ex-husband's new wife. When they get papers to join her sister Raghda (Hiam Abbas) and physician husband Nabeel (Yussef Abu Warda) in the US, they move to small-town Illinois just as the US invasion of Iraq fuels anti-Arab sentiment.
Daunted but intrepid, Muna can only find work on a White Castle hamburger stand, which she hides from her family, selling fast food in the promised land even as she recoils from its taste. Fahti is bullied at school and, according to custom, seeks revenge.
Newcomer Cherien Dabis directs Amreeka with a sure hand which takes the film beyond the cliches and sentimentality of the standard immigrant saga. Born in Jordan, she grew up in rural Ohio where her father was a doctor. The America which Muna and Fahti encounter is a complicated place — a land of racial profiling and provincialism, yes, but also of goodness and generosity.
On screen, even in this small film, Nisreen Faour as Muna has a magnetic optimism. Asked by customs agent for her occupation, she responds with a warm guile-less smile, 'Yes - we are occupied.' That same tone of humour in adversity gives Amreeka a special poignancy throughout.
Dabi's script contrasts Muna's warmth with the chilling post 9/11 welcome she receives. DoP Tobias Datum artfully turns the Manitoba into rural Illinois, where the chilly landscapes are reflected in the mistrustful faces of Abbas and Abu Warda as immigrants who have seen Americans turn against them during the Iraq war.
The discovery in Amreeka, besides Dabis directing, is young Melkar Muallem, who embodies the painful uncertainty of relocating to a new, often-hostile, land. In his first film role, he reminds you of the dark resentments which generations inherit from long-unresolved conflicts. These are conflicts that will take more than a loving mother to solve.
Production companies
First Generation films
Alcina Pictures
Buffalo Gal Pictures
Eagle Vision Media Group
Cinergy Productions
International Sales
William Morris Independent 310 859-4315
Producers
Christina Piovesan
Paul Barkin
Screenwriter
Cherien Dabis
Cinematographer
Tobias Datum
Editor
Keith Reamer
Production Designer
Aidan Leroux
Composer
Kareem Roustom
Main Cast
Nisreen Faour
Melkar Muallem
Hiam Abbass
Yussef Abu Warda
Alia Shwkat
Joseph Ziegler