Dir: Rob Reiner. US. 2014. 93mins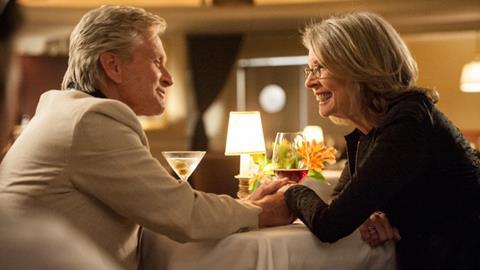 Playing like a slipshod, first-draft, fan-fiction homage to the oeuvre of Nancy Meyers, And So It Goes, starring Michael Douglas and Diane Keaton, is an adult contemporary romance that invites nothing so much as thoughts of a yowled refrain from one of The Who's classic hits: "Hope I die before I get old!" Oscar-winning screenwriter Mark Andrus revisits the well of As Good As It Gets and plugs plot points and curmudgeonly character traits from that film and other similar works into some sort of random story generator. The result is a punishingly unfunny cocktail of geriatric humor, barely warmed-over platitudes and phony self-actualisation, served up with all the panache of a run-down hotel buffet.
Director Rob Reiner, who also co-stars in a supporting role as Leah's toupeed piano man and would-be paramour, oversees flat stagings that only exacerbate the written material's painful shortcomings.
Opening wide as boomer generation-targeted counter-programming against Lucy and Hercules, the film could make a brief box office stand on behalf of the retirement set, but it seems destined for ignominious box office reception and eventual cable television anonymity, with even more limited international prospects.
The movie is centered around Connecticut real estate agent Oren Little (Douglas), who, having lost his wife to cancer, has turned bitter and angry. While he works to sell his house and fund his retirement (to… Vermont?), he takes an apartment at one of his small lakeside properties, where he generally acts like a jerk, sparring with Leah (Keaton), a lovelorn bar crooner who gets perpetually flustered while sharing between-song stories.
Melodramatic contrivance arrives in the form of 10-year-old Sarah (Sterling Jerins), who Oren's estranged, ex-junkie adult son Luke (Scott Shepherd) drops off with his father while on the way to serve a prison sentence for a crime he didn't really commit. Initially lacking any sort of interest in his granddaughter, Oren dumps Sarah on Leah, before familiar third-act thawing drags the movie across its emotional finish line.
From its generic title to its bland jokes and strained emotional epiphanies, And So It Goes plunges viewers into a chasm of ever-expanding exasperation. It's the type of movie that bills itself as a charming, idiosyncratic and refined bed-and-breakfast, but is really nothing more than a dumpy chain motel. Its only distinguishing characteristic comes by way of its rich set dressing. The stakes are not only odd and unrelatable (Will Oren be able sell his house for the full listing price, or have to discount it by several million dollars? Will Leah become the most extravagantly overpaid lounge singer in the entire American Northeast?), but the entire enterprise seems designed as some sort of caricature of exclusionary privilege. Even the trumped-up charges for which Luke is taking the fall are of the white-collar variety.
Director Rob Reiner, who also co-stars in a supporting role as Leah's toupeed piano man and would-be paramour, oversees flat stagings that only exacerbate the written material's painful shortcomings. There aren't real characters here, just contrasting emotional dispositions that are thrown up against one another. The few scenes that work — including a romantic sequence that imports the matter-of-fact bluntness of senior citizendom to seduction — don't really track with what follows before or after it.
Douglas is best known for a variety of slick, rich, amoral movers and shakers, but he also has the capacity for a deft touch with caustic characters, as previously evidenced in films like Wonder Boys and Solitary Man. And So It Goes, however, has no sort of convincing depth or character shading, so it obliges Douglas to awkwardly lurch about, embodying various degrees of boorishness.
Keaton cycles through her familiar collection of affably-tinged neurotic tics and emotional signposts, though it's admittedly a bit tamped down. Still, there's nothing herein that can be described as a believably multi-dimensional or interesting portrayal. And So It Goes is flavourless and forgettable.
Production companies: Foresight Unlimited, Envision Entertainment, Castle Rock Productions
Domestic distribution: Clarius Entertainment
Producer: Rob Reiner, Alan Greisman, Mark Damon,
Executive producers: Liz Glotzer, Jared Goldman, Ron Lynch, Andrew Scheinman, Martin Shafer, Tamara Birkemoe, Grant Cramer, Shaun Redick, Raymond Mansfield, Vitaly Grigoriants, Remington Chase, Stepan Martirosyan
Screenplay: Mark Andrus
Cinematography: Reed Morano
Editor: Dorian Harris
Production designer: Ethan Tobman
Music: Marc Shaiman
Website: http://www.AndSoItGoesTheMovie.com
Main cast: Michael Douglas, Diane Keaton, Yaya Alafia, Sterling Jerins, Paloma Guzman, Frances Sternhagen, Scott Shepherd, Rob Reiner, Andy Karl, Frankie Valli, Annie Parisse