An android actress, giant anime robots and the legacy of Akira Kurosawa were among the offerings at this year's Tokyo International Film Festival (TIFF), which as always presented an interesting mix of old and new.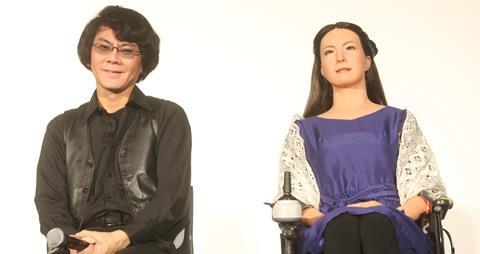 Android Geminoid-F – created by robotics expert Hiroshi Ishiguro – is an eerily convincing lead actress in Koji Fukada's Sayonara, which received its world premiere in TIFF's competition section.
Both Geminoid-F and Japanese-speaking actress Bryerly Long are reprising their roles from the short stage-play from which the film is adapted.
Although set in a near-future Japan contaminated by radiation, the film is more of a riff on mortality and the fear of death than a comment on the Fukushima nuclear disaster.
More startling than the story was the range of emotions that Geminoid-F was able to convey. "Sometimes robots can express more than humans," said Ishiguro at a post-screening event.
Gundam focus
The giant robots came courtesy of a focus on iconic Japanese anime series Mobile Suit Gundam, created by Yoshiyuki Tomino, which has run for 36 years and has clearly influenced Hollywood productions such as Pacific Rim.
The World Of Gundam sidebar ran throughout the festival, screening the entire series, including feature films, TV series and Tomino's 2009 CGI animated feature Ring Of Gundam.
Like Fukada's Sayonara, the long-running series – about young people piloting massive robots that fight each other in space – raises questions about the relationship between humans and technology.
Tomino talked about the "Minovsky particles" in the series, a fictional technology used to shut down wireless communications.
"I wasn't thinking about physics or electronics when I created them – they're there to help the drama," said Tomino during a talk event alongside 27-year-old media artist and professor Yoichi Ochiai.
"Sometimes you have to turn off the technology so that you have people fighting or interacting with each other. Ultimately, drama doesn't work without emotions like love – and love only works in a face-to-face situation."
Kurosawa looms large
These are not issues that Japan's most famous filmmaker, Akira Kurosawa, who passed away in 1998, ever had to deal with during his lengthy career.
Nonetheless, he loomed large over this year's TIFF, which screened a 4K digitally restored version of his 1985 classic Ran, while his kabuki-to-film adaptation, They Who Step On The Tiger's Tail, played at Shochiku's historic Kabuki-za theatre in Ginza.
On the second day of the festival, jury president Bryan Singer talked about the huge influence Kurosawa had on him as a film student at USC.
"We would travel to Little Tokyo and see every single Kurosawa film," said Singer. "At that age, I was also watching films from [Steven] Spielberg and [George Lucas], juxtaposed with Kurosawa who influenced them both, so I became entrenched in Japanese cinema quite early."
Crosscut Asia
In recent years, TIFF has also been reaching out to the rest of Asia through its Crosscut Asia section, which this year focused on cinema from the Philippines, with a special section on Brillante Mendoza.
The festival also hosted retrospectives of the work of Shuji Terayama, Orson Welles and actor Japanese actor Ken Takakura; a Masters of J-Horror sidebar, featuring the work of Hideo Nakata, Takashi Shimizu and Kiyoshi Kurosawa; and a new section, Japan Now, showcasing outstanding Japanese films from recent and upcoming months.
Masato Harada was selected as the Director in Focus of the Japan Now section. His most recent feature, Emperor In August, tackles the controversial issue of the role Emperor Hirohito played in the Second World War. Meanwhile, Hong Kong filmmaker John Woo and Japan's Yoji Yamada were honoured with Samurai Awards (see separate story).
TIFF wraps on Saturday (Oct 31) with a screening of Japanese director Tetsuo Shinohara's Terminal, based on a novel by award-winning writer Shino Sakuragi.