Dir: Tomm Moore. Ireland-France-Belgium. 2008. 78mins.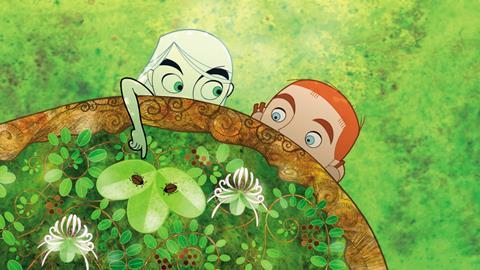 Visually ravishing and doused in Celtic magic, Irish animated feature Brendan And The Secret Of Kells takes as its plot source and stylistic inspiration the eighth century Book of Kells, an intricately illuminated Latin gospel that is widely considered to be Ireland's greatest national treasure.
Brendan is certain to draw fans in the 5-11 core audience, although though its weight of exposition and hand-drawn 2-D animation style may make it a niche product rather than a marquee title outside of its home territory. The US could prove to be an exception, though, where its huge diaspora Irish community will make it a key market.
The film's historical anchor is the most prevalent of various theories about the origin of the Book of Kells - that it was begun on the abbey of Iona in Scotland, and later taken to the Abbey of Kells in County Meath, where monks continued the intricate and time-consuming work of illustration. But pretty much everything else in the story is either invented or rooted in legend.
Our hero is child-monk Brendan, a red-haired lad whose curiosity keeps leading him into scrapes that incur the wrath of his stern uncle, Abbot Cellach. The other monks - an international bunch, bringing home just how cosmopolitan European monasteries were in the so-called Dark Ages - tell Brendan in reverent tones about the greatest illustrator of them all, Brother Aidan from Iona.
And soon enough sprightly old Aidan turns up in Kells with his cat Pangur Ban, fleeing with his precious book from the evil, Minotaur-like Northmen, who are pillaging their way through Scotland and Ireland. Helping Aidan to finish the book despite the disapproval of his uncle (for whom the only useful job is building walls to keep the invaders out), Brendan strays into the forest in search of ink pigments, and is saved from danger by a white wolf who turns out to be Aisling, a mischievous, impulsive girl-sprite.
Director Tomm Moore and his team really excel themselves in these forest sequences, where Irish monasticism meets Busby Berkeley. At times, motifs from megalithic passage graves and Celtic jewellery float in the background like micro-organisms under a microscope, or fall in the form of snowflakes. Perspective is flattened out, and Brendan and Aisling are framed inside branches, just as Biblical characters were framed inside the opening letters of illuminated manuscript pages.
Occasionally, the action spreads across the screen in three separate frames, reminding us that the spatial narrative techniques of Medieval painting and modern graphic novels are not far removed.
Kids weaned on Pixar may look down on Brendan, but as with Miyazaki, it's a parental duty to drag them along to this captivatingly original take on Old School animation.
Production companies
Cartoon Saloon
Les Armateurs
Vivi Film
France 2 Cinema
International sales
Celluloid Dreams
(33) 1 49 70 03 70
Co-director
Nora Twomey
Producers
Didier Brunner
Viviane Vanfleteren
Paul Young
Tomm Moore
Screenplay
Tomm Moore
Fabrice Ziolkowski
Art Director
Ross Stewart
Editor
Fabienne Alvarez-Giro
Music
Bruno Coulais
Voice cast
Evan McGuire
Mick Lally
Christen Mooney
Brendan Gleeson
Liam Hourrican