Dir: Mariane Satrapi, Vincent Paronnaud. Fr. 2007. 94 mins.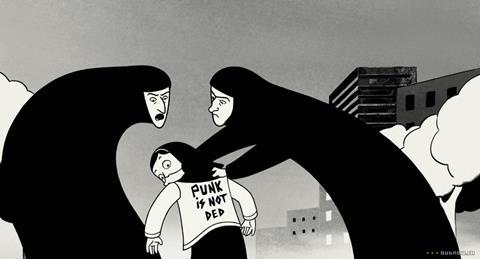 The four bestsellingPersepolisgraphic novels written and illustrated by Paris-based Iranian graphic artist Marjane Satrapi drew on her own memoirs to portray a girl growing up through the turbulent early years of the Islamic Revolution and the war with Iraq.
Fears that the often hard-hitting Persepolis would become cutesified and watered down in this feature-length animated adaptation are mostly unfounded: directed by Satrapi herself with the help of underground comic artist Vincent Paronnaud, the film is remarkably faithful to the spirit and the black-and-white look of the artist's epic coming-of-age tetralogy. Persepolis ' main drawback as a piece of cinema is its episodic structure, which makes it feel like a strung-together sequence of autobiographical shorts rather than a film with a dramatic arc.
This very fidelity could be an audience turn-off, especially in France (release 23 June) where the books have sold in their hundreds of thousands: there is nothing in the film that isn't in the print version, and some of Satrapi's readers may resist forking out just to see an animated version of her comic-strip Bildungsroman. But overseas, the Persepolis books have sold enough to create a buzz without flooding the market - perfect conditions for a graphic novel adaptation. And the film will also benefit from its undogmatic, subjective view of a topical subject: the apparent incompatibility between Islamic fundamentalism and such 'decadent' Western concepts as freedom of thought, democracy and women's rights.
Persepolis also looks likely to have a life outside conventional theatrical and auxiliary channels, for example in educational institutions: the books are already prescribed reading in over 150 US schools and colleges. Both at home and abroad, the relatively old target audience for an animated feature (from 12 or 13 up, given the political theme, some recreational drug use and one deliberately shocking example of strong language) could present a marketing challenge.
It would be wrong to think of this as a sour denunciation on the part of a politically motivated exile. One of the charms of Persepolis , on page and screen, is Satrapi's vein of irony and self-deprecatory humour. The story is as much about the life of a feisty young woman between the ages of four and 24 as it is about Iran, and in any case it is far from being a eulogy of Western values. As the author/narrator learns in the course of a troubled adolescent sojourn in Vienna, 'in the West you can die in the street and nobody cares '.
The story opens in Teheran in 1978, on the eve of the popular uprising that deposed the Shah. Four-year-old Marjane lives with her comfortably off, Westernised parents, and attends a French school. Her father and mother are enthusiastic supporters of what initially looks like the democratic removal of an oppressive regime, and Marjane discovers that she even has an uncle who was imprisoned for his opposition to the Shah. But gradually the storm clouds loom. Her uncle is imprisoned again by the new government - elected with an eyebrow-lifting 99.99% of the popular vote - and eventually executed. Marjane's affectionate but sharp-minded grandmother is her main support - along with occasional visions of God, who is later joined by a jovial Karl Marx.
By 1982, the Iran-Iraq war is raging and religious fundamentalism colours every aspect of life in Teheran. But Marjane, and most of her friends and family, continues to resist with little acts of rebellion - buying clandestine Iron Maiden cassettes, distilling homemade wine, organising illicit parties. Though the threat of violence and imprisonment is always in the background, it's the bureaucratic stupidities of the regime that have most impact on the young narrator, and make for the most enjoyably absurd moments - as when she and her fellow art students are forced to sketch a fully veiled model during their anatomical drawing class at Teheran University.
Except for a modern-day colour bookend sequence set at Paris 's Orly airport, the animation is in black and white, reproducing the strong, rounded lines and chiaroscuro contrasts of Satrapi's drawing style, which sometimes resembles a more freehand, expressionist version of Herge's Tintin. Smoky grey backgrounds add layering and depth, while silhouette-work and jerky cardboard-puppet sequences nod humorously at the Arabian Nights tradition.
In the French version of the film presented at Cannes, the star voice cast included Chiara Mastroianni as Marjane, Catherine Deneuve as the mother, and an especially impressive Danielle Darieux as the grandmother. Deneuve will reprise her role in Sony Pictures Classics' English-language version of the film, while Gena Rowlands will voice the grandmother; other key voices have yet to be confirmed. One hopes that the eventual DVD will include the option of listening to the tres charmant French original with English subtitles.
Directors/screenplay
Marjane Satrapi
Vincent Paronnaud
Based on the graphic novels written and drawn by Marjane Satrapi
Production company
2.4.7 Films
International sales
Dreamachine
Producers
Marc-Antoine Robert
Xavier Rigault
Art director
Marc Jousset
Editor/compositor
Stephane Roche
Animation coordinator
Christian Desmares
Music
Olivier Bernet
Main voice cast
Chiara Mastroianni
Catherine Deneuve
Danielle Darrieux
Simon Abkarian
Gabrielle Lopes