New Line horror opens in UK, North America on Friday. Dunkirk eyes $200m milestone.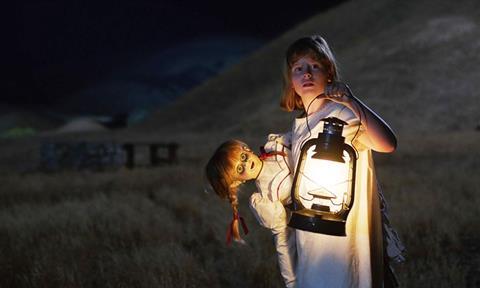 AUGUST 11 UPDATE: Annabelle: Creation conjured up an estimated $5.6m on Thursday, bringing the early international total to $9.5m through Warner Bros Pictures International. The horror sequel opened in 22 markets on Thursday, including Russia, South Korea and Australia.
The film debuted in South Korea on $1.2m from 593 screens and ranks as the number one foreign film in the market behind two local films. The results more than double all the previous films in the Conjuring universe and is the highest grossing opening day ever for a foreign horror title.
Russia produced $582,000 on 1,246 screens and ranked number two in the market. It was enough to surpass the opening days of all the previous films in the Conjuring universe.
Meanwhile, Australia produced an estimated $302,000 from 231 screens and ranked a clear number one. The opening day results there are 28% ahead of The Conjuring and is tracking close behind the opening of Annabelle.
Annabelle: Creation posted the biggest opening day ever for a Hollywood horror film in Hong Kong, and Portugal boasts the best horror opening day ever.
David F Sandberg's film generated $2.3m on Wednesday after launching in seven international markets and stands at $1.3m in France after adding $551,000 following Wednesday opening day's $775,000, which generated 103,000 admissions from 262 screens. The film ranked number one in Paris and number three overall, holding the highest per-screen average by far of all films in release.
Annabelle: Creation stands at $1m in Indonesia after a non-traditional Wednesday launch when it grossed $456,000 on 572 screens, ranking a strong number one.Opening day results doubled that of Annabelle and tripled that of The Conjuring.
The horror opened in Belgium, Iceland and Singapore on Wednesday, ranking number one in all three markets. Their respective results rank as the biggest opening days ever for a horror film.
Christopher Nolan's Dunkirk enters its fourth weekend of release on $194.1m through Warner Bros Pictures International. The action drama has reached $334.6m worldwide.
Wonder Woman has reached $394.9m and stands at $795.4m worldwide. Patty Jenkins' tentpole crossed the $400m mark in North America on Tuesday, and is on the verge of crossing that same mark internationally, which it should do following its debut in Japan later this month.
Meanwhile, the underperforming King Arthur: Legend Of The Sword has reached $104.3m and will debut in Spain this weekend.
Fox International's War For The Planet Of The Apes grossed another $31.5m after opening in its final 14 markets last weekend.
The action tentpole stands at $153.7m as it heads into the weekend. War For The Planet Of The Apes lags far behind its predecessor, 2014's Dawn Of The Planet Of The Apes, which earned $502.1m internationally.
Fox has several major markets left to open, including China on September 15, which was Dawn's biggest (outside of North America) on $107.4m.
Captain Underpants: The First Epic Movie stands at $18.3m as it opens in Mexico this weekend, while Alien: Covenant has reached a lowly $158.4m.
Illumination's Despicable Me 3 stands at $897.8m globally and $653.8m internationally through Universal Pictures International. Last week, the Despicable Me franchise (including Minions) became the highest grossing animated franchise of all time globally on more than $3.532bn.
The Mummy stands at $323.2m internationally and $403.2m worldwide, while Sofia Coppola's drama The Beguiled starring Nicole Kidman, Kirsten Dunst, Elle Fanning and Colin Farrell has grossed an early $5m as it heads into Brazil.
Charlize Theron spy thriller Atomic Blonde opens in the UK, Colombia and the Netherlands and has reached an early $2.7m in Universal territories. Girls Trip stands at $6.7m and opens in one.
Sony Pictures Releasing International's Spider-Man: Homecoming has grossed $377.5m, putting it within striking distance of the $506.1m reached by The Amazing Spider-Man 2 in 2014.
Even more encouraging, Tom Holland's web-slinger debuts in Japan this weekend, where 2014's Spidey grossed $30.3m. Homecoming will see a big boost in the international tally when it debuts in China on September 8. The Amazing Spider-Man 2 grossed $94.4m there - a good sign for the current incarnation of the Marvel hero.
Walt Disney Studios Motion Pictures International's Pirates Of The Caribbean: Dead Men Tell No Tales has amassed $611.7m.
With all territories opened, the film added $10m last weekend, and will end its international run nearly $200m short of On Stranger Tides' $804.6m international haul.
Cars 3 has reached $144.3m and opens in Thailand, Vietnam and some small territories this weekend.
Paramount Pictures International's Baywatch stands at $117.9m, while Transformers: The Last Knight has reached $458.7m.