Dir: John R. Leonetti. US. 2014. 98mins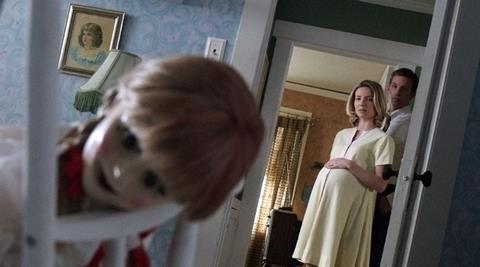 While there is something reassuringly familiar about the 'possessed-and-creepy doll' genre, this spin-off from James Wan's hit haunted house film The Conjuring delivers only a few genuine scary moments as it attempts to press some expected spooky buttons. But it arrives on screens when there isn't a whole lot out there for fright fans and could well attract an audience interested to see what nastiness this creep doll can dish out.
In truth the jumps and jolts are all pretty predictable.
It is a mystery only horror films can answer why seemingly sensible folk like to collect seriously dodgy looking dolls – and the rosy cheeked and blood-toned lipped Annabelle is at the top of the evil-looking doll spectrum – but they are a much-used film stand-by and at least always act of a great scene-setter for spookiness to come. Director John R Leonetti (cinematographer for James Wan) does a good job in setting up the film as the rather large pig-tailed doll arrives into the collection of expectant Santa Monica housewife Mia (Annabelle Wallis), a gift from her medical student husband John (Ward Horton).
The 1970s backdrop adds much to an unusual sense of atmosphere, while the fact that the lead character is called 'Mia' also lays on pretty thick the links to Roman Polanski. Not only is it a link to Mia Farrow (and the Rosemary's Baby riffs that come later), but the nasty and nicely staged opening gambit of the film is a house invasion by occult worshippers (linking to the Manson Family's killing of Polanski's wife Sharon Tate) that sees a crazed hippie couple attack Mia and John.
The crazed attack sees Mia stabbed in the stomach and the hippy girl – the disturbed daughter of their next-door neighbours – dying in the self same room where Mia keeps her doll collection, cozying up to Annabelle. After a spell in hospital, Mia – and baby-to-be – are fine, but back at home there is an uncomfortable atmosphere, and things start happening around the house (home appliances having a mind of their own, doors slamming etc) with not-so-cute Annabelle shifting places and – of course – spending time on a creaky rocking chair.
Luckily John gets a new residency and the family – now with baby in tow – head to leafy Pasadena. They make an attempt to get rid of Annabelle but she keeps on turning up like that proverbial bad penny. Now the tension starts to be turned up a notch or two, especially when Mia takes an ill-advised trip to the apartment block building. Alfre Woodard makes a welcome appearance as a neighbour who handily has a shop specialising in occult books (Mia starts to research what is happening to her) while the couple's local priest (Tony Amendola) also pops by to see if Christian healing can help matters.
In truth the jumps and jolts are all pretty predictable. The performances are uniformly one-note – though kudos should go to the period design, which adds much to the atmosphere – and while Annabelle (of course supposedly based on a true story) offers some modest horror thrills, gene fans are likely better waiting for The Conjuring 2, due out next year.
Production companies: New Line Cinema, Ratpac-Dune Entertainment, Atomic Monster/Safran Company
Distribution: Warner Bros
Producers: Peter Safran, James Wan
Executive producers: Richard Brener, Walter Hamada, Dave Neustadter, Hans Ritter, Steven Munchin
Co-producers: Jenny Hinkey, Carey W. Hayes, Chad Hayes
Screenplay: Gary Dauberman
Cinematography: James Kniest
Editor: Tom Elkins
Production designer, Bob Ziembicki
Music: Joseph Bishara
Main cast: Annabelle Wallis, Ward Horton, Tony Amendola, Alfre Woodard, Kerry O'Malley, Brian Howe, Eric Ladin, Ivar Brogger, Geoff Wehner, Gabriel Bateman, Shiloh Nelson, Sasha Sheldon