Dir: Ask Hasselbalch. Denmark. 2013. 77mims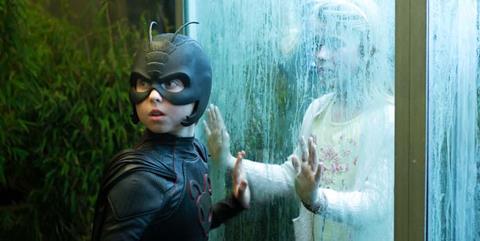 This delightful Danish children's film is one of the better superhero films for quite a while, and while its budget is a fraction of the likes of Iron Man, Spider-Man, Captain America or The Avengers it has the heart, humour and modest thrills to set alongside them with ease. The sad story is that subtitled children's films rarely get the international distribution they deserve, but Antboy is well worth a look for savvy distributors.
Funny, sweet-natured, exciting and peppered with some nice comic-book style graphics.
Debut director Ask Hasselbalch does a fine job in adapting this fun-packed and exciting comedy-adventure based on the popular children's books by Kenneth Bøgh Andersen, and at a tight and tasty short running time Antboy is great family entertainment.
In a small Danish town, desperately ordinary 12 year-old Pelle Nøhrmann (Oscar Dietz) is bitten by a rather special ant – which had been fed a secret serum – while on the run from school bullies. He starts to feel his body changing and finds he has some new abilities – such as great strength, the ability to climb walls and acid for urine (it comes in handy later) – which are spotted by nerdy comic-obsessed Wilhelm (Samuel Ting Graf) who is determined to help him, and even designs a special costume.
When Amanda (Cecilie Alstrup Tarp), Pelle's schoolmate that he secretly admires, is seized by a villain named Flea (Nicolas Bro) - who wants to get back at her industrialist father who had sacked him some time ago – Antboy is forced to try and help, and prove that he has the skills and personality to be the hero he yearns to be.
Funny, sweet-natured, exciting and peppered with some nice comic-book style graphics, Antboy is a children's superhero charmer of a film, with Oscar Dietz impressive as the young hero. In fact the whole of the young cast shine in a film that brims with fun and excitement.
Production company: Nimbus Film
International sales: Attraction Distribution, www.delphisfilms.com
Producers: Birgitte Hald, Eva Jakobsen, Lea Løbger
Executive producers: Birgitte Hald, Bo Ehrhardt
Screenplay: Anders Ølholm, based on the books by Kenneth Bøgh Andersen
Cinematography: Niels Reedtz Johansen
Editors: My Thordal, Peter Brandt
Production designers: Nikolaj Danielsen, M. Wan Sputnick
Music: Peter Peter
Main cast: Oscar Dietz, Nicolas Bro, Samuel Ting Graf, Amalie Kruse Jensen