Dir: Dover Kosashvili. US. 2010. 94mins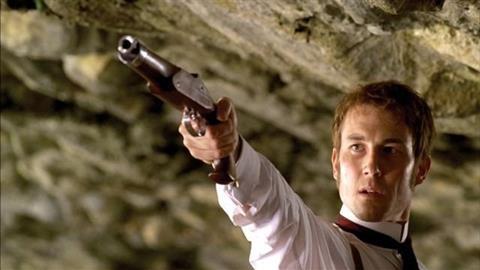 An American production of a celebrated Russian novel, directed by a Georgian-born Israeli, spoken in English, with a mixed cast of Irish and British actors working on the Dalmatian coast of Croatia and with additional assistance from an Italian composer and costume designer, this is about as international a project as any film can hope to be. Released in US to favorable reviews but never exhibited elsewhere, it screened in the Cannes market.
The look of the film, however, stands out above all its other achievements.
A handsome, literate, all around production, much in the spirit of the elegantly shot, decorously designed Merchant-Ivory pictures which producer Donald Rosenfeld worked on, it has all the earmarks of a respectable theatrical release…, if only a few heavyweight names had been attached to it. As it is, with a 2009 copyright credit on the print, few festivals will dare feature it in their main programme, though broadcasters may be interested.
Just like the novel it is based on, the entire plot unfolds in a Caucasian resort by the Black Sea, at the turn of the last century. It pits a typical Chekhov wastrel, Laevsky (Andrew Scott), tremendously fond of drinks, cards and women and immensely sorry for himself, who left the capital in the company of a married woman, Nadya (Fiona Glascott), to become "a gentleman of the land", for which he has neither the aptitude nor the temperament.
Laevsky, fed up with his lovely, vacuous Nadya, hesitant to reveal the death of her husband for fear of having to make his relationship with her official, tries to borrow more money, on top of every other debt he has, in order to run away (like so many other Chekhov characters) back to St. Petersburg. The loan will finally drag him - without having really intended to - into the final confrontation with the man whose money he wants to use.
Chekhov's novel, just like his plays, is a sad, ironic but also deeply nostalgic study of characters, painting a finely detailed portrait of a doomed social environment going through the motions as if nothing has happened, without quite realizing that its time is up. In Mary Bing's adaptation, as directed by Dover Kosashvili, the lassitude of a class hanging on to its mannerisms out of sheer inertia is spiked at times with more than the necessary dose of self-destructive despondency, particularly in Laevsky's case, with Andrew Scott delivering the kind of Actors' Studio performance which may be a bit over the top.
The pace imposed by Kate Williams' editing tends to be on the leisurely side, but this is an integral part of Chekhov's world in which everyone one is in a great hurry to change nothing at all.
The look of the film, however, stands out above all its other achievements. Starting with the glorious landscapes magically captured by the camera of Paul Sarossy, through Ivo Hasnjak's carefully designed production, Sergio Ballo's costumes and Angelo Mili's romantic score, this sweeping, lavish picture, of the kind Kosashvili has never attempted before, will make a real claim on tender-hearted audiences, in a way none of his earlier pictures has ever done.
Production companies: Flux Films, High Line Pictures
International Sales: Bristol Media International, www.bristolmedia.com
Producers: Donald Rosenfeld, Mary Bing
Screenplay: Mary Bing
Cinematography: Paul Sarossy
Editor: Kate Williams
Production designer: Ivo Husnjak
Costumes: Sergio Ballo
Music: Angelo Milli
Main cast: Andrew Scott, Tobiaas Menzies, Fiona Glascott, Nial Buggy, Michelle Fairley, Jeremy Swift