Halloween, Netflix style.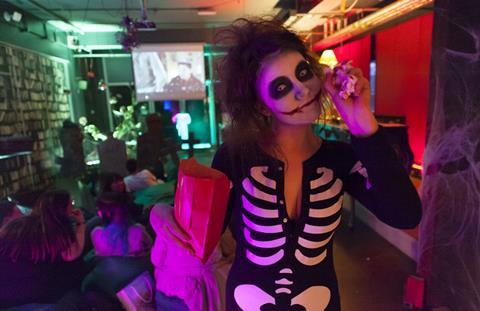 So, I'm drinking a shot of blood with a skeleton while watching 'Thriller' danced in front of me. Just a standard Tuesday night, then.
But fear not, this isn't the result of an AFM-induced breakdown; rather it's the Netflix Fright Night which, as though it was appealing solely to myself, promised "blood, gore and B-movie horror" at the Exposure Gallery in London.
With the aforementioned skeleton - in reality, Katie, a dancer replete with skeleton onesie finished off with a Joker flourish [pictured] - ensuring that everyone who enters doesn't do so without popping on some fancy dress and striking a pose, the mood is set even before attendees can take in the graveyard-themed bar (with added spiderwebs that literally get everywhere if you touch them even for a second).
Perfectly timed for Halloween, Netflix released a survey saying that "those educated to advanced degree level are more than twice as likely (7%) as people without degrees to be a fan of blood and gore in scary movies" - therefore giving me a ready-made excuse for psychology sessions later in life - so the night is supplemented with fittingly appropriate horror clips, including the beautifully bloody Poe-inspired opening to Saw V, as well as some dancing zombies seeing as "supernatural scares" are one of the three most popular elements of scary movies.
And to mark Netflix's latest original content, Eli Roth's TV series Hemlock Grove, Fright Night ended with beanbags strewn across the floor for a screening of Hostel, a film which unfortunately - even for a horror aficionado like myself - one viewing is more than enough.