Dir: Janus Metz. Denmark. 2010. 90mins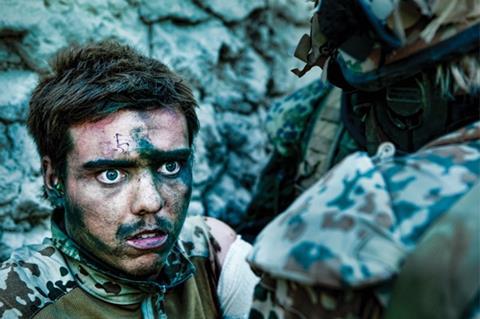 The gap between political ambitions and battleground reality is brought into sharp focus by Armadillo, the first feature-length theatrical project from award-winning television documentary-maker Janus Metz. The director and his team have gained unfettered access to a division of Danish combat soldiers on a tour of duty in the Helmand Province in Afghanistan.
Armadillo is both absorbing and thought-provoking; qualities that make it a significant addition to the documentaries on the war on terror.
Initially, the results suggest that the exercise has yielded no more insight into the front line experience than the average episode of HBO's acclaimed Generation Kill. The more we come to know the division, the more of an emotional charge that the film carries,
Made with the visual polish and dramatic intensity of a fictional feature, Armadillo still feels like a more natural fit for television sales and the production notes reveal the existence of an alternative television cut running to 58 minutes.
The disappointing box-office response to theatrical releases from Redacted to Green Zone may make distributors wary of approaching Armadillo but the documentary authenticity lends it a unique selling point. The film is scheduled to open theatrically in Denmark on July 8.
Metz has revealed that his initial inspiration for the documentary was the desire to understand how soldiers become addicted to the adrenaline-buzz of combat and why they would choose to re-enlist in the cold light of their experiences on the ground. Starting in January 2009, the film follows the members of a division as they head to a base at Armadillo that is home to 170 British and Danish troops.
We witness emotional airport farewells to family and loved ones before the focus fixes on the daily lives of the troops. Long stretches of boredom are peppered with bursts of action. It seems impossible to counteract the intimidation of the Taliban forces or to gain a true understanding of who qualifies as a friend or a foe among a local population suspicious that their presence will not be permanent.
The whole tour of duty conspires to erode the humanity of the soldiers and make them question how they can fulfill a political goal of breaking peace to the area. Injuries and incidents lead to a skirmish in which four members of the Taliban are killed. The thrill of the chase, the pride in the deaths and a subsequent time to reflect on their exultation at taking human lives becomes a defining moment for soldiers like Mads and Daniel.
Keeping himself and his crew out of the picture, Metz is careful to present his intimate observations of the division, the bond forged in shared adversity and the addictive high from close encounters with matters of life and death. Unsensational and strikingly shot by Lars Skree, Armadillo is both absorbing and thought-provoking; qualities that make it a significant addition to the documentaries on the war on terror.

Production company: Fridthjof Film
International sales: Trust Nordisk, (45) 6029 8466
Producers: Ronnie Fridthjof, Sarah Stockmann
Cinematography: Lars Skree
Editor: Per K. Kirkegaard
Music: Uno Helmersson