Dir: Deborah Anderson. US. 2013. 73mins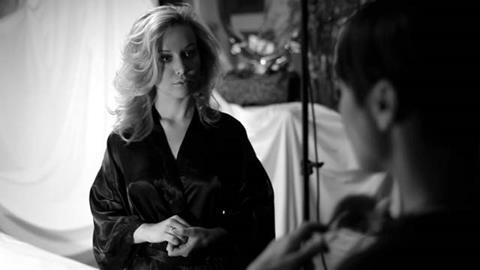 Photographer Deborah Anderson takes anunconventional and refreshing look at the adult film industry by using a tasteful photographicsitting with aseries of porn stars as a way of allowing them a safe and supportive environment to talk about how they gotinto the businessand how they honestly feel about it.
Aroused is an intriguing and insightful film.
Anderson opens with an Erica Jong quote: "Everyone has talent. What is rare is the courage to follow the talent to the dark place where it leads". She punctuates the footage by throwing in a series of other quote from the likes of Anais Nin, Marlene Dietrich and Joan of Arc, and while this feels like trying a little too hard at times, the core of the film is an intriguing one.
As Anderson's own voiceover states: "This is not a story about photography. This is a story about women – I wanted to soften the eyes…take out sex and put in sensuality."
And while there is a little too much talk about the photography being for her third fine art book, it is at its best as the porn stars – 16 of the most successful women in the adult film industry – have their make-up done and their hair styled, relax and talk about how they got into the business and how it affects their personal lives.
Filmed mostly in black and white, Anderson talks easily with the women, and they seem to relish the opportunity to open up. She may well be photographing them in the nude (they lay naked on white satin sheets for the session) but they are aware they are not being exploited and then here is a woman interested in them as women first and foremost.
The interviewees include Belladonna, Kayden Kross, Lisa Ann, Katsumi, Teagan Presley, Ash Hollywood, Misty Stone, Tanya Tate, Asphyxia and Jesse Jane, and all are elegantly and simply filmed. They are intelligent and thoughtful as they dwell on how they found themselves in the adult film industry, with many of the coming from strict religious backgrounds and some barely aware of sex and sexuality before working in the industry.
They are aware that having sex on screen is largely just a job for them and talk candidly about how romantic relationships with people who aren't in the industry – or 'civilians' as they call them – is often difficult.
Aroused is an intriguing and insightful film, and while Anderson can be a little heavy-handed in adding in discussion about her own work when she should just be focusing on the women, she reveals a candour, honesty and charm to these women that is far beyond the simplistic sexual image they have to portray in their adult films.
Production company: Cherry On Top
Sales contact: Ketchup Entertainment, www.ketchupent.com
Producers: Deborah Anderson, Christopher Gallo
Executive producer: Trina Venit
Cinematography: Christopher Gallo
Editor: David Schenk
Music: Damion Anderson
With: Belladonna, Kayden Kross, Lisa Ann, Katsumi, Teagan Presley, Ash Hollywood, Misty Stone, Tanya Tate, Asphyxia, Jesse Jane, Francesca Le, Lexi Belle, April O'Neil, Brooklyn Lee, Allie Haze, Alexis Texas, Fran Amidor