Dir: Hiromasa Yonebayashi. Japan. 2010. 94mins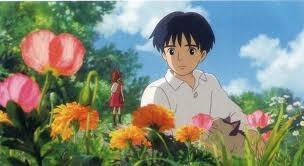 This enchanting new animated feature for kids of all ages augurs well for the creative future of Japanese animation house Studio Ghibli once veteran co-founder Hiyao Miyazaki passes on the mantle – though it may not be enough to buck the financial downswing of traditional 2D animation. Directed by rising Ghibli talent Hiromasa Yonebayashi – who was Miyazaki's chief key animator on Spirited Away, Howl's Moving Castle and Ponyo – Arrietty (aka The Borrowers) has the grace, heart and ravishing visual style of Ghibli at its best, along with an eminently exportable Celtic folk soundtrack.
Arrietty continues Ghibli's tradition of spiritual eco-consciousness, strong and feisty female characters and faith in the pure of heart, as long as they're also brave and resourceful.
Perhaps the only thing it lacks is the edge of inspired madness and magic that lifts Miyazaki's own work for the studio (especially Spirited Away) from kid's cartoons to cult animated classics. But it may well prove more palatable to younger kids than some of Miyazaki-san's output, which has been known to bring on night terrors. Ghibli's last film, Ponyo On The Cliff by the Sea, was its youngest in target and also its most successful title to date in the US, where it grossed around $15 million.
Based on Mary Norton's The Borrowers, a well-known children's' book which has been adapted for the screen more than once (most recently in Peter Hewitt's 1997 live action version with John Goodman), Arrietty – which is rumoured to be a make or break gamble for the short-of-cash studio – has the potential to at least equal this haul. Back in Japan, where it was released in July, the film has notched up a healthy 7.5 million admissions – a national record for a work by a first-time director.
The action of the film is updated from 1950s England to present-day Japan, but otherwise sticks fairly closely to the story of Mary Norton's first instalment of what would become a series of Borrowers books. In reality, though, the house where sickly twelve-year-old Sho goes to live with an elderly aunt is neither particularly contemporary nor identifiably Japanese: full of heavy antiques and old-fashioned armchairs and furnishings, it is (like many of Miyazaki's own fantasy worlds) an imagined European dreamspace, caught in a space-time limbo, and the characters too are more Caucasian than Asiatic.
It's here in a garden rich with painterly botanical detail that Sho first sees Arrietty – a finger-tall 'borrower', who lives with her Harrison-Fordish father Pod and spinster-thin mother Homily in a house under the floorboards, furnished and provisioned with gleanings from the big world above: stamps hang as posters on the wall, and a single bay leaf is enough to flavour the family's soup for a whole year. One of the delights of the film is the way it dramatises the house from a three-inch perspective: the journey from the borrowers' home into the big house is a dangerous Lost Ark expedition beneath the floor, behind the wainscoting and over loose electrical fittings, with nails and staples providing bridges and ladders. At a certain point Arrietty stops for a rest and absentmindedly throws a football-sized curled woodlouse up into the air a few times. It needs two strong people working opposite corners to drag a paper tissue out of its box, and a single sugar cube weighs down Arrietty's scavenging bag.
Arrietty lacks the kookiness of My Neighbour Totoro or even Ponyo – partly because there's nothing supernatural in this world, except for the fact of the tiny people. But it continues Ghibli's tradition of spiritual eco-consciousness (Pom Poko, Ponyo), strong and feisty female characters (they were doing this well before Pixar, Dreamworks or Disney) and faith in the pure of heart, as long as they're also brave and resourceful (Porco Rosso, Spirited Away, Kiki's Delivery Service). It also introduces a topical note: while younger kids will focus on the cute friendship between Sho and Arrietty and how cool it would be to have a tiny friend, their parents will reflect on how even the best-intentioned 'big' humans tend to destroy all the smaller tribes they come into contact with, and also how the line between borrowing and stealing has been blurred by the recession. It would be easy to cast the humans in the big house as the corporations and the supermarket chains, with the borrowers as the no-global freegans and dumpster divers.
Ghibli guru Hayao Miyazaki is currently working on a short with a much higher cell-per-minute rate than is usual for a Ghibli title, suggesting that focus on detail is the way forward for what's left of the 2D theatrical animation sector. The background painting in Arrietty looks great, with its Monet-like gardens and enjoyably cluttered interiors. There is scope, however, for giving the characters more depth without moving into the third dimension. For kids brought up on Shrek, Wall-E and Avatar, flat-colour faces with a single line of shadow look a lot like afternoon TV anime.
Production companies: Studio Ghibli
International sales: Wild Bunch, www.wildbunch.biz
Producer: Toshio Suzuki
Executive producer: Koji Hoshino
Screenplay: Hayao Miyazaki, Keiko Niwa, based on Mary Norton's book The Borrowers
Supervising animators: Megumi Kagawa, Akihiko Yamashita
Art direction: Yoji Takeshige, Noboru Yoshida
Editor: Rie Matsubara
Music: Cecile Corbel
Voices: Mirai Shida, Ryunosuke Kamiki, Tomokazu Miura, Kirin Kiki, Shinobu Otake