Dir: Dante Ariola. US. 2012. 101mins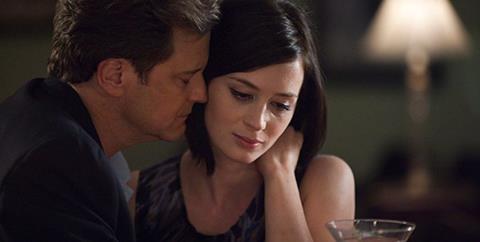 A provocative film that loses its nerve, Arthur Newman hits upon a terrific metaphor for modern-day ennui — presenting us with two characters who can only find happiness by assuming other people's identity — but grows dispiritingly more squishy at about the halfway point. Fine work by Colin Firth and Emily Blunt provides director Dante Ariola's feature debut with its heart and soul, but one can't help but wonder how much more resonant a bolder approach to the material might have been.
Arthur Newman flirts with a darker view of humanity, the movie eases up on the throttle, settling for safer emotional terrain.
Aimed squarely at art-house patrons and awards voters, Arthur Newman will have plenty of cachet thanks to Firth's recent Best Actor Oscar and Blunt's relatively high visibility. Unfortunately, mixed reviews may dampen enthusiasm and blunt commercial prospects.
Firth plays Wallace Avery, an unremarkable, straight-laced Floridian who decides one day to fake his death and become a new person, Arthur Newman, complete with forged ID and passport. But as he prepares to leave town, he meets a woman (Blunt) who goes by Mike and is being arrested for stealing a car. Soon, he discovers that she too has created a fake identity for herself. He proposes that she drive with him to Indiana, where he hopes to start a new life as a golf pro at a country club.
The script, by Becky Johnston, confidently sets up these two unexpectedly likeminded individuals. With her criminal tendencies, family secrets and sarcastic streak, it's clear that the troubled Mike is far more comfortable living this double life than he is, but once he settles on being known as Arthur, he tries to forget everything about who he used to be — including his unexciting job, disinterested ex-wife, distant son, and unfulfilling current relationship (with girlfriend Anne Heche, who's quite strong playing a similarly unremarkable, defeated woman).
But Arthur Newman raises expectations after Arthur and Mike find themselves falling into a bizarre sexual relationship that involves them breaking into people's homes and essentially playacting as if they were the residents. As a result, they form a bond that feels liberating and transgressive. Without overstating the parallels, Arthur and Mike are almost a modern-day Bonnie and Clyde, except that rather than robbing banks they're borrowing identities, hoping to shed their feelings of worthlessness along the way.
Firth and Blunt navigate their characters' tricky relationship deftly. At first, Arthur and Mike's age difference and disparate backgrounds seem like difficult obstacles, but their shared, desperate need for escape soon becomes an aphrodisiac, and Firth and Blunt make that transformation into unlikely lovers believable. The filmmakers intentionally provide little about these people's backgrounds, but the actors suggest the years of discontent that have brought them to where they are now.
But Arthur Newman flirts with a darker view of humanity, the movie eases up on the throttle, settling for safer emotional terrain. Without revealing anything, let it be said that eventually Arthur and Mike's secret identities get called into question, forcing a re-evaluation of why they're making this trip to Indiana in the first place. As throughout the film, Firth and Blunt infuse their lost characters with pathos, so it's a pity that Arthur Newman doesn't let them fully explore the possibilities of what they've unleashed. For a movie about the need to break free of convention, it's frustrating that Arthur Newman ends up siding with the conventional.
Production companies: Vertebra Films, Focus Features International, Cross Creek Pictures, Monarch Bay Productions
International sales: Focus Features International, www.focusfeatures.com
Producers: Alisa Tager, Becky Johnston, Mac Cappuccino, Brian Oliver
Executive producers: Helen Cappuccino, Andrew Cappuccino, Lisa Bruce, Natalie G. Hill, James Holt, Eric Greenfeld
Screenplay: Becky Johnston
Cinematography: Eduard Grau
Production design: Christopher Glass
Editor: Olivier Bugge Coutte
Music: Nick Urata
Main cast: Colin Firth, Emily Blunt, Anne Heche, Emmet Walsh, David Andrews, Kristin Lehman