Dir: Hala Alabdalla. Syria-France-UAE. 2012. 120mins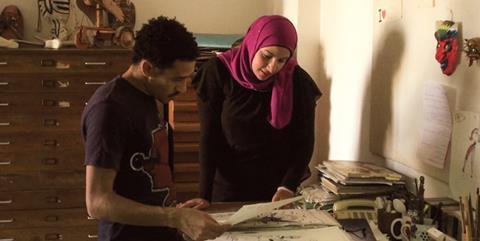 The art of the caricature has been important in the Arab world for more than a century, used to tackle the plight of ordinary citizens, raise political points and more recently focus on the issues around authoritarian rule. Using humour, satire and often-righteous anger, the work – which can be seen in newspapers, magazines and books – can be evocative and powerful.
The film offers striking viewpoint of a complex and constantly changing time, and is always intriguing.
Director Hala Alabdalla interviews a series of artists, illustrators and essayists over a period of deep change, and with the winds of revolution sweep through Tunisia, Egypt, and Syria the impact on the people is reflected in the work of these artists.
In Cairo she interviews Mohieddin Al Labbad, a veteran caricature artist, illustrator and graphic designer, and emerging artists from the younger generation that he has mentored, while in Damascus, she talks to infamous caricature artist Ali Farzat along with Hazem Al Hamwi, a younger artist, who displays on camera all the drawings he never dared to publish.
She counterpoints the interviews with a series of increasingly moving conversations with novelist and essayist Samar Yazbek, who reflects on the place of irony, humour, censorship and insubordination in contemporary Arab letters.

In the midst of filming revolution sweep through the countries. The gently influential Al Labbad passes away; Farzat is attacked by thugs from the Syrian regime and has his fingers broken – a clear message or response to his challenging illustrations. Yazbek is detained but eventually released and decides to flee the country to Paris for her daughter's safety.
While As If We Were Catching A Cobra, which runs two hours, is too long and at times struggles to find a sense of balance and rhythm with Hala Alabdalla letting some interview statements run too long (likely for emotionally sound reasons) when the film would work much better as a tighter project.
It is at its most interesting in the second half when the work of illustrators old and young is more fully explored, with the interviews with the charismatic and playful Ali Farzat especially powerful. He speaks eloquently and passionately, and in his final interview – conducted via Skype – he holds his battered and bruised hand to the camera to prove he is beginning to heal.
While Samar Yazbek is an eloquent and increasingly sad figure, there are times when her story doesn't quite dovetail with the discussions and artistic debates of the caricaturists. But the film offers striking viewpoint of a complex and constantly changing time, and is always intriguing.
Production companies: Ramad Films, L'Oeil Sauvage
International sales: WIDE Management, www.widemanagement.com
Producers: Hala Alabdalla, Bloch Bernard, Frédéric Féraud
Cinematography: Sabine Lancelin, Pierre Dupouey, Hala Alabdalla
Editor: Dominique Pâris