Dir: Andres Dresen. Germany-France. 2015. 117mins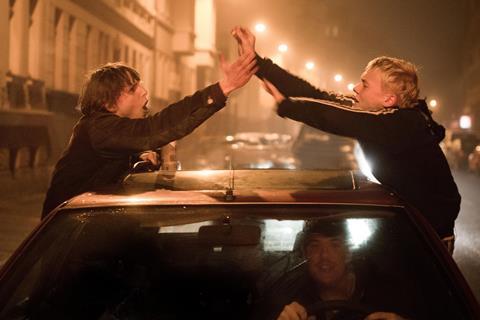 Leipzig in 1990 looks almost as devastated as it did after 1945 in As We Were Dreaming, Andreas Dresen's portrait of lost boys in the ruins. Among filmmakers born in East Germany, Dresen has excellent credentials for exploring the culture of that land and the bittersweet (mostly bitter in his films) blessing of reunification. Yet in this adaptation of the 2006 novel by Clemens Meyer, we never get past the clichés of the displaced and the disaffected.
Most of As We Were Dreaming is chasing and loud partying, with none of the tenderness of Dresen's clear-eyed observation of elderly love in Cloud Nine (2008).
There is a surging youthful energy in As We Were Dreaming, but films about young men in gangs roaming through rubble can be found in almost every filmmaking country – from the US to the UK to Korea. There is not enough that is distinctive in Dresen's film to make it exportable, so Germany and the hard core of Dresen fans out there are likely to be its only audience. Its shelf life depends largely on the future careers of its young cast members.
As We Were Dreaming takes us back to the last years of the GDR and the first years of the future once communism fell. Four friends who went to school together now live in a teenage no man's land where order has broken down. So they drink, steal, and fight with rival hoodlums. It's a familiar picture of another country's rebels without a cause.
Dresen has plenty of atmosphere to work with in Leipzig, with its rusted buildings and squalid cellars, and his gang of four boys (sometimes five, if you count a sidekick called Pitbull for his looks) is as camera-ready as a teenage rock band. Yes, he's pinching a bit from that template, too.
We watch them take over a senile retiree's apartment, start a nightclub and spar with the shaven-headed Neo-Nazi enforcers of a local gangster. One of them, called Rico, is an aspiring boxer, which makes for a mix of bare young chests and flailing arms, but life on these mean streets seems to be largely recycled from the movies that his actors grew up on – the tearful mother, the betrayals, the funeral, the girl who got away.
There is a little freshness in when the As We Were Dreaming script by Wolfgang Kohlhaase flashes us back to the boys' school in the last gasps of East Germany, when pupils simulated a fire for a visiting army colonel and tested the authority of teachers, which was slipping away by the day. (The once-proud principal is a house painter after the regime falls.) Child flirtations between boys and girls at school are witty and touching.
But most of As We Were Dreaming is chasing and loud partying, with none of the tenderness of Dresen's clear-eyed observation of elderly love in Cloud Nine (2008). As expected, the logistics and production values of As We Were Dreaming are topnotch, albeit in a dingy grey palette from cinematographer Michael Hammon, which won't be welcomed by the Leipzig Tourist Bureau. We're sure to see more of the young cast again, perhaps in a script where they and the gifted Dresen are doing something less generic.
Production companies: Rommel Film, Iskremas Filmproduktion, Cinema Defacto
International sales: The Match Factory, info@matchfactory.de
Producer: Peter Rommel
Co-producers: Andreas Dresen, Andreas Leusink, Tom Dercourt
Screenplay: Wolfgang Kohlhaase
Cinematography: Michael Hammon
Editor: Joerg Hauschild
Main cast: Merlin Rose, Julius Nitschkoff, Marcel Heuperman, Joel Basman, Frederic Haselon, Ruby O. Fee, Chiron Elias Krase, Luna Rösner, Tom von Heymann, Nico Ramon Kleemann